Marie de Rabutin-Chantal, marquise de Sévigné (5 February, 1626 – 17 April, 1696) was a French aristocrat celebrated for her vivid and witty letters. Most of the letters were written to her daughter, Françoise-Marguerite de Sévigné.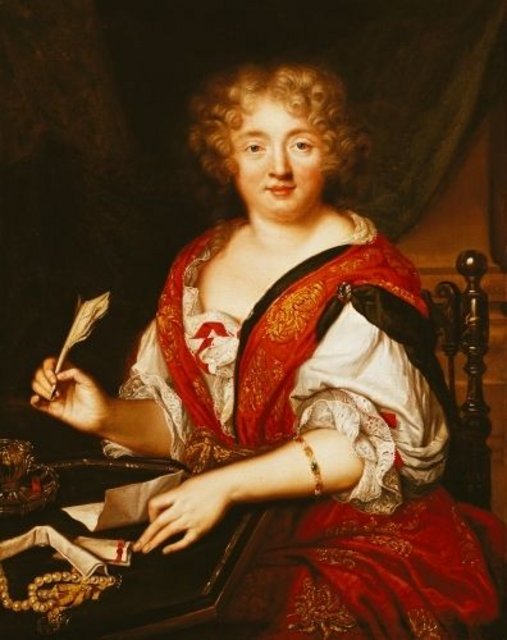 Books about Marie de Rabutin-Chantal, including her famous correspondence*
Born as Marie de Rabut in-Chantal in Place des Vosges, Paris. Her family was a distinguished, old, and respected clan from Burgundy.
At the age of seven she was orphaned. Her father died during the English attack on the Isle of Rhé in 1627; her mother died a few years later. Marie was brought up by her maternal grandparents and uncle. Despite these struggles, she received an excellent education.
She married to Henri, marquis de Sévigné, a nobleman from Brittany in 1644. The couple had two children, Françoise in 1646 and Charles in 1648.
Henri, despite (or because) his noble blood was not a good husband. He spent money and cheated on his wife a lot. In 1651 Henri was injured in a dual over his mistress, and died shortly after.
Mme de Sévigné was twenty-four years old, she never married again.
In 1669 Françoise married François Adhémar de Monteil, comte de Grignan. Soon after the marriage Grignan was appointed as lieutenant governor of Provence, which meant the couple had to move there. This is when the famous correspondence between mother and daughter began.
Mme de Sévigné's knew that her letters were being circulated around 1673. She wrote them accordingly.
Some of the best depictions of life in that era come from her letters, including 17th-century spa, plays, court ceremonies, as well as newsworthy items like the trial and execution of Madame de Brinvilliers (convicted, along with her lover, of murdering her father and two brothers to inherit their estate).
The correspondence of Mme de Sévigné and her daughter Françoise lasted for around 30 years.
The duo exchanged around 1,100 letters, but only 15% survived, the rest destroyed after being read. A discovery in 1873 of early manuscript copies allows us to account for about half of them.
To this day, Mme de Sévigné is considered to be one of France's greatest icons when it comes to 17th Century literature.
Books about Marie de Rabutin-Chantal, including her famous correspondence*
Zohar — Man of la Book
*Ama­zon links point to an affil­i­ate account
--- Please like and follow ManOfLaBook.com ---