Frank Baum (15 May, 1856 – 5 May, 1919) was an American author best known for the beloved Wizard of Oz series.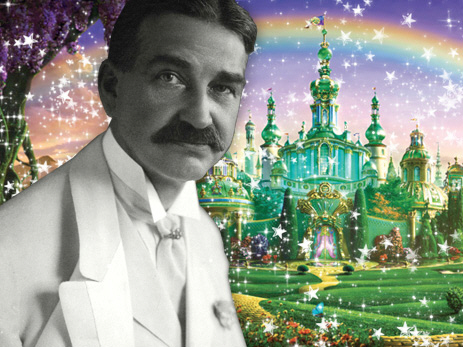 Mr. Baum was the seventh of nine children. Sadly only five survived to adulthood.
The letter L. stands for Lyman, to honor his father's brother.
Before the success of the Oz books, Mr. Baum's found success with the children's book Father Goose, His Story, illustrated by William Denslow, who would start illustrating the Oz books later on.
Mr. Baum spent years in South Dakota during a drought, which setting became Kansas in the Wizard of Oz.
The Wizard of Oz had 17 sequels, three of them were published after Mr. Baum passed away.
Mr. Baum was an adamant supporter of women's rights. His mother in law, Matilda Joslyn Gage, even wrote a book, History of Woman Suffrage (availble for free) with Susan B. Anthony, however it is said she did not like her son-in-law very much.
MGM paid Mr. Baum $75,000 for the rights to the novel.
When MGM adopted The Wizard of Oz to the big screen they dropped the feminist themes of the novel and changed the ending to make it all a dream.
Along with fiction, Mr. Baum wrote non-fiction books as well, such as a stamp collecting guide.
After the Wounded Knee Massacre, Mr. Baum wrote two editorials in which he called for the genocide of Native Americans to ensure the safety of white settlers.
Zohar – Man of la Book
--- Please like and follow ManOfLaBook.com ---