On this day in 1883 Lebanese author, poet and artist Khalil Gibran(January 6, 1883 – April 10, 1931) was born.  Growing up in the United States, Gibran has written in English.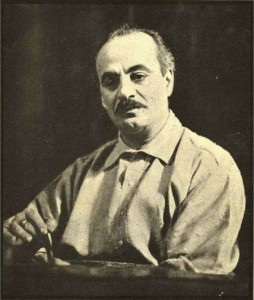 1 ) Gibran was born to a Catholic family in the town of Bsharri which is in Northern Lebanon.
2 ) After Gibran's father went to jail for embezzlement, Kamila Gibran decided to go to her brother in the United States. She left with Khalil, two younger sisters and older half brother to Boston's South End in 1985 even though Mr. Gibran was released in 1894.
3 ) Due to a clerical error at his school, Gibran's first name, Gubran, was dropped and hence forth he was known through his middle name, Khalil.
4 ) In 1898 a publisher used some of Gibran's covers for a book.
5 ) At age 15 Gibran returned to Beirut, Lebanon to study in a prepatory school. There he started a literary magazine and was elected "college poet".
6 ) Day's studio in Boston held Gibran's first art exhibition in 1904.
7 ) Gibran's poetry is noted for is formal language and insightful thoughts.
8 ) Gibran's book The Prophet has never been out of print since 1923, when it was first published.
9 ) John Lennon used an altered line from Gibril's poem 1926 "Sand and Foam" in the song Julia, included  The Beatles' 1968 "white" album.
10) Khalil Gibran is the all-time third best selling poet , coming after Shakespeare and Lao-Tzu.
Zohar – Man of la Book
--- Please like and follow ManOfLaBook.com ---