Yesterday we celebrated James Joyce's birthday. Joyce is well known for his stream of consciousness novel Ulysses.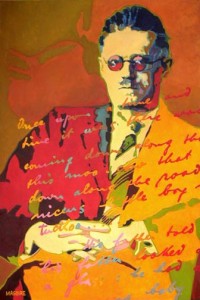 1 ) James Joyce was the eldest of 10 children born in Dublin, Ireland.
2 ) An outstanding student, Joyce learned Norwegian so he can read Henrik Ibsen place in their original language.
3 ) Joyce's wife and mother to his children, Nora Barnacle, was uneducated by lively which is why he fell in love with her.
4 ) Between 1917 and 1930 Joyce hand 25 operations on his eyes.
5 ) Portrait of an Artist as a Young Man, a rewrite of a novel he abandoned, won Joyce several benefactors including Edith Rockefeller.
6 ) The novel Ulysses started out as a serial in Little Review, an American magazine. However, the U.S. Post Office stopped distributing the magazine because, according to them, the novel was obscene.
7 ) Ulysses was self published in 1922 by Sylvia Beach, over of Shakespeare and Co. in Paris.
8 ) The name of the elementary particle "quark" in quantum physics comes from the line Three quarks for Muster Mark!" in Joyce's Finnegans Wake.
9 ) the works and life of James Joyce are celebrated annually in Dublin on June 16 – Bloomsday.
10) Some writers who count James Joyce as an important influence are Samuel Beckett, Jorge Luis Borges, Flann O'Brien, Máirtín Ó Cadhain, Salman Rushdie, Robert Anton Wilson, John Updike and Joseph Campbell.
Zohar – Man of la Book
--- Please like and follow ManOfLaBook.com ---