H.L. Davis (18 October, 1894 – 31 October, 1960) was a poet, novelist and short stories writer. Born in Oregon he lived in California and Texas. Davis' books are not the typical romantic "western" fiction but are more realistic and ironic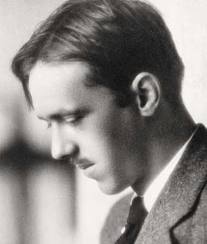 .
The H.L. stands for Harold Lenoir.
Davis' father was the country assessor and in 1912 Davis became his deputy holding that position off and on.
After he graduated high school Davis has saved $1,500 and went to study in Stanford University. However, upon arrival he discovered that $1,500 won't even be enough for one semester.
Davis held multiple short-term jobs including a railroad timekeeper, a banker and various jobs with Pacific Power and Light.
Davis' first published poems, known together as Primapara, were published in Poetry magazine (1919) and won the magazine's Levinson Prize of $200.
Davis was awarded a Guggenheim Fellowship in 1932, he moved to Jalisco, Mexico where he concentrated on his writing for 2 years.
In Mexico he completed Honey in the Horn which received the Harper Prize (Best Novel, 1935) and the Pulitzer Prize.
To this day Davis is the only author born in Oregon to receive the Pulitzer.
Davis and his wife bought a ranch in Napa, CA where he made a living writing short stories to several magazines, among them The Saturday Evening Post and Collier's.
Davis' left leg was amputated as a result of arteriosclerosis.
Zohar – Man of la Book
--- Please like and follow ManOfLaBook.com ---