Today, August 5, is the birthday of French writer Guy de Maupassant who was born in the year 1850. If you haven't heard of Monsieur Maupassant don't be alarmed, he wrote mostly short stories.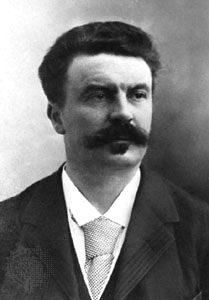 1)      Was born as Henri-René-Albert-Guy de Maupassant.
2)      Even though he is known for writing he started out by studying law in Paris.
3)      Monsieur Maupassant's law studies were interrupted in 1871 when he volunteered for the army during the Franco-Prussian War.
4)      Gustave Flaubert, a good friend of Maupassant's mother noticed Maupassant's interest in writing and introduced  him to Emile Zola and Henry James.
5)      Zola edited a collection of stories about the war and selected Maupassant's "Boule de Suif" ("Ball of Fat") to be one of them.
6)      Many of his stories are set in the Franco-Prussian War.
7)      In 10 years Maupassant created an amazing body of work including six novels, 300 short stories and several non-fiction books.
8)      In a strange turn of events Maupassant's Naturalist style influenced Zola's writing.
9)      Maupassant contracted syphilis in his 20's.
10)  A side effect of syphilis is insanity, Maupassant died in 1893, his 40s, in an insane asylum.
Zohar – Man of la Book
References:
http://en.wikipedia.org/wiki/Guy_de_Maupassant
http://www.history.com/this-day-in-history/guy-de-maupassants-birthday?catId=8
Related articles
--- Please like and follow ManOfLaBook.com ---