Happy Halloween to all, a fun holiday by all means where the young, and young at heart (ahmm…) get to dress up and collect candy (10% to the house). Mary Shelley wrote Frankenstein in 1818 and since then the Gothic horror tale has taken up a life of its own and is still considered both a classic and a modern story.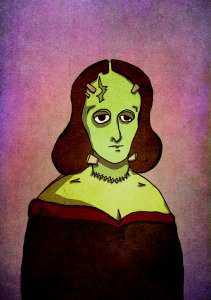 Artist Selin Arisoy merged the image of Mary Shelley with that of Frankenstein
Mary Shelley wrote Frankenstein: The Modern Prometheus on a vacation in Switzerland when the group (including her husband Percy Shelley and famed poet Lord Byron) was stuck inside due to the weather. Lord Byron suggested a proposed a contest to see who could write the best supernatural story. Mary won the contest – she was 19!
That contest also produced the first vampire story The Vampyre by John William Polidori which introduced the seductive vampire, which invites you into his home and sucks your blood. Polidori based his creation on his buddy, Lord Byron.
The first movie adaptation of Frankenstein was made by Thomas Edison in 1910 and can be viewed in its entirety below. The movie was considered sacrilegious (even a better reason to watch it) and was thought to be lost until being discovered in the 1950s.
At first Frankenstein was published anonymously (1818) to scathing reviews ("a tissue of horrible and disgusting absurdity"). A play in 1823 made the story popular and the book appeared in print again (1831), but with significant changes including crediting Mary Shelley with the authorship.
Mrs. Shelley went on to write several more books, her favorite was The Last Man, an apocalyptic sci-fi novel.
Frankenstein is considered to be the first science fiction novel.
Frankenstein is Victor Frankenstein, the scientist, his creating has no name.
Paradise Lost by John Milton is an obvious influence on Mary Shelley. In the book the monster reads the epic poem and empathizes with the devil.
One of the reasons the book was controversial when it came out was because Victor Frankenstein had a crush on his sister. Granted she was adopted but it's still creepy.
All four people who were involved in the writing contest which Mary Shelley one in the cold vacation in Switzerland died tragically. John William Polidori committed suicide in 1821, Pecry Shelley drowned in 1822, Lord Byron died of sepsis in 1824 and Mary died in 1851 of a brain tumor. Before drawing conclusion though, we must remember that at that time people were dying young all over the place – but it makes the story that much better, doesn't it?
Happy Halloween,
Zohar – Man of la Book
--- Please like and follow ManOfLaBook.com ---