François-Auguste-René, vicomte de Chateaubriand (4 September, 1768 – 4 July, 1848) was a French author and diplomat, known as one of the first Romantic writes of his country.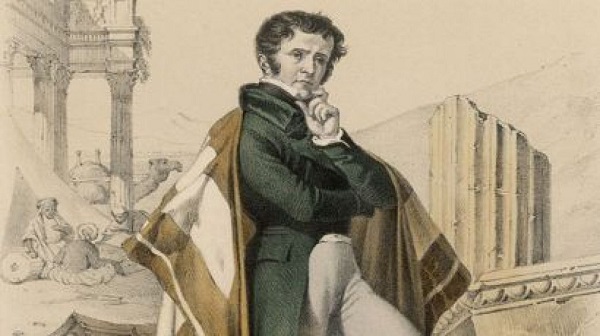 Books by François-René de Chateaubriand*
The last of ten children to a sea captain, slave owner, and ship owner in Saint-Malo, the author grew up in Combourg, Brittany at the château de Combourg, his family's castle.
The atmosphere at the house was dark and gloomy as was his father's disposition.
Chateaubriand chose the military of priesthood, and was commissioned as a second lieutenant in the French Army, assigned to a base at Navarre.
He was a captain within two years.
As the French Revolution broke out, the author was sympathetic but decided to go to America as it grew more violent.
The author arrived in Philadelphia, traveled to New York, Massachusetts, Connecticut, and to the Niagara Falls.
He broke his arm at the falls and spent a month with a Native-American tribe. He published a memoir of the trip, as well as used his travels as a setting for his future novels.
Upon returning to France, Chateaubriand joined the Royalist troops and was forced to marry an aristocratic woman he has never met. He was severely injured at the Siege of Thionville, and was exiled to Jersey, England leaving his wife (who he cheated on repeatedly) behind.
He spent his exile in London, living in poverty and took advantage of the amnesty in 1800 to return to France.
 Chateaubriand was appointed Secretary of the legation to the Holy See by Napoleon and received a surprise in the form of a large sum of money from Russian Tsarina Elizabeth Alexeievna. Due to his book, The Genius of Christianity (Génie du christianisme), the Tsarina took him as a defender of Christianity and thus worthy of her royal support.
With little money issues, Chateaubriand became a major literary force in France dominating "the literary scene in France in the first half of the nineteenth century" as historian Peter Gay put it.
Books by François-René de Chateaubriand*
Zohar – Man of la Book
*Ama­zon links point to an affil­i­ate account
--- Please like and follow ManOfLaBook.com ---