Francisco González Bocanegra (8 January, 1824 – 11 April, 1861) was a poet who wrote the lyrics of the Mexican National Anthem in 1853.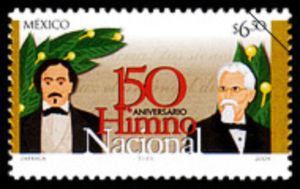 The poet was born in San Luis Potosí to José María González Yáñez, a Spanish soldier, and Francisca Bocanegra y Villalpando, sister of the Foreign Relations Secretary under President Vicente Guerrero.
In 1827 the family moved to Spain following a law expelling Spanish citizens from Mexico. This was despite an exemption issued to the family's father for being married to a Mexican.
The family lived in Cádiz until 1836 when they returned to San Luis Potosí.
President Antonio López de Santa Anna held an open competition in 1853 to write the Mexican national anthem. Mr. González, a talented poet already, had no interest but his fiancée, Guadalupe González del Pino (Pili) and her friends pushed him to enter.
Mr. González still refused, but Pilil lured him into a bedroom and locked him in until he produced a worth entry.
The poem, ten verses in all, won the competition by a unanimous vote.
One year after the poem was chosen, it got set to music written by Catalan composer Jaime Nunó, who at the time was the leader of several Mexican military bands at the behest of President Santa Ana
Mr. González is buried in the Rotonda de las Personas Ilustres (Rotunda of Illustrious Persons) in Mexico City.
In 1943 the anthem was cut from 10 verses to four plus the chorus.
In 2005 a law was passed that allowed the anthem to be translated into several of the main indigenous languages so that it could be enjoyed by more Mexican citizens.
Zohar — Man of la Book
*Ama­zon links point to an affil­i­ate account
--- Please like and follow ManOfLaBook.com ---