Evelyn Waugh (28 October, 1903 – 10 April, 1966) was an English novelist, biographer and travel writer. He is known for his novel Brideshead Revisited, and the Sword of Honour World War II trilogy.
Fun Facts about Evelyn Waugh:
Arthur Evelyn St. John Waugh was born in Oxford to a family that had many distinguished people on its family tree. Including judges, science pioneers, and ministers.
His father, Arthur Waugh was a publisher and managing director of Chapman and Hall, publishers of Charles Dickens.
As a boy, he wrote plays performed by the neighborhood's children.
Mr. Waugh started attending Sherborne after his older brother, Alec, was asked to leave after he was caught having a homosexual relationship. While waiting for an officer's commission, Alec wrote, he wrote The Loom of Youth, a novel about life at school, alluding to a homosexual friendship. The school in the novel was easily recognizable as Sherborne, and Evelyn was promptly asked to leave. To his shagreen, he was sent to the inferior Lancing College.
Lancing College, however, grew on Evelyn Waugh. He published his first article, founded a club, and had mentors encouraging him to write, calligraphy, and decorative design. His work was good enough to use on book jackets.
When studying in Oxford, Mr. Waugh surrendered to the pleasures of life. Smoking, bicycling, intellectualizing, and engaging in homosexual relationships. He wrote book reviews, short stories, and was known as a talented graphic artist, but formal schooling was largely nonexistent.
Evelyn Waugh started teaching and writing. The teaching didn't go as well as he liked, the atmosphere was gloomy, he had a tough time writing, and at least once was fired for drinking. He did publish his fiction and was trained as a printer with Shakespeare Head Press in Stratford-upon-Avon, who published his extended essay privately. This essay led to a contract for a biography of Dante Gabriel Rosetti.
In 1927, the same year he began working on his comic novel Decline and Fall, Evelyn Waugh met Evelyn Gardner. The couple got engaged in December despite the opposition of Lady Burghclere, Evelyn's mother. She felt the groom to be lacked moral fiber and was bad company to keep.
The couple was quickly dubbed "He-Evelyn" and "She-Evelyn" by their friends. The couple got divorced in 1929 when "She-Evelyn" confessed she has taken on a lover.
The author traveled as part of his job as a reporter to several papers. He attended the coronation of Emperor Haile Selassie of Ethiopia. Went on the colonies at British East Africa and the Belgian Congo (which were the basis for two books), continued to British Guiana, and South America prompting him to write tow more novels. Later on, he even went on an expedition to the Arctic (which he did not enjoy), and even attended the Nuremberg Trials.
During World War II Mr. Waugh became his battalion's Intelligence Officer (due to his inability to command men, and his unpopularity at being a commander). He saw action in the failed Operation Menace during the Battle of Dakar in West Africa. Later one he was posted to a commando unit, and sailed to the Mediterranean, participating in an unsuccessful attempt to recapture Bardia, Libya.
When Brideshead Revisited was published in 1945, Evelyn Waugh's fortunes changed. He became famous and made money publishing several books and novels among other works. He even became an avid collector of Victorian paintings and furniture.
Zohar — Man of la Book
*Ama­zon links point to an affil­i­ate account, the money is usually spent on books
--- Please like and follow ManOfLaBook.com ---
Summary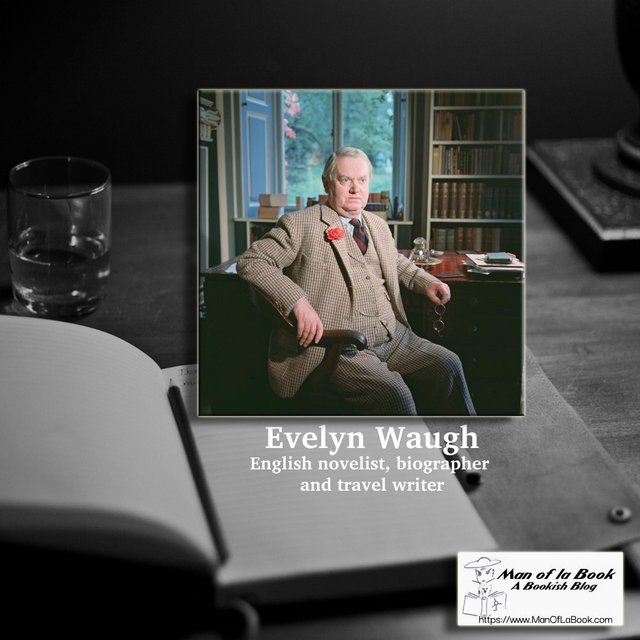 Article Name
Fun Facts Friday: Evelyn Waugh
Description
Evelyn Waugh (28 October, 1903 – 10 April, 1966) was an English novelist, biographer and travel writer. He is known for his novel Brideshead Revisited, and the Sword of Honour World War II trilogy.
Author
Publisher Name
Man of la Book - A Bookish Blog
Publisher Logo