Southern writer Eudora Welty was born today, 13 April 1909 (died 23 July 2001) in Jackson, Mississippi.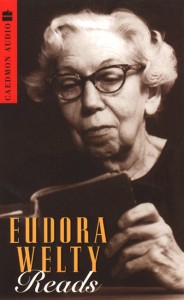 1 ) Eudora Welty was the daughter of an insurance company owner and had a sheltered childhood and a led a sheltered life.
2 ) Many of Ms. Welty's stories feature strong women, however feminist scholars shunned them due to negative comments she made in the 1970s about the feminist movement.
3 ) Eudora Welty was the first woman to study at Peterhouse College in Cambridge.
4 ) Ms. Welty was an accomplished photographer who took pictures for three years in the south during depression in the 1930s.
5 ) When she returned home from college (Columbia University School of Business), Ms. Welty worked as a radio writer and newspaper society writer.
6 ) The Death of a Traveling Salesman was Eudora Welty's first published short story (1936). Her work appeared in the Southern Review for the next two years.
7 ) A Curtain of Green, a book of short stories was published in 1941.
8 ) Ms. Welty was awarded the O. Henry Award for best short fiction in 1942 and 1943. The novel The Optimist's Daughter was awarded the 1972 Pulitzer Prize.
9 ) Ms. Welty was the first living author to have her works published by the Library of America.
10) Eudora Welty's house in Jackson, Mississippi is a National Historic Landmark and is a museum which is open to the public.
Zohar – Man of la Book
Related articles
--- Please like and follow ManOfLaBook.com ---