Tomorrow, July 30 will be the birth date of Emily Brontë (30 July 1818 — 19 December 1848). While I'm not a big fan of the Brontë sisters, I certainly do appreciate their contributions to literature.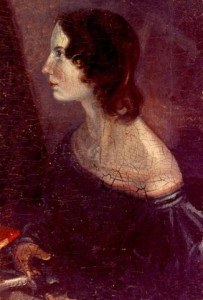 1) Emily Jane Brontë was the fifth child, or six children, born into the Brontë family.
2) Her mother died when she was two.
3) Emily went to a school for clergymen's kids when she was six with her three older sisters. However the two oldest died due to the harsh conditions at the "school".
4) Emily worked as a governess and a schoolteacher.
5) Emily and Charlotte went to Brussels, Belgium, I n 1842 to study school administration.
6) After Emily learned that Charlotte and Anne have also written poems, they published their first book called "Poems by Currer, Ellis and Acton Bell" (read for free).
7) The collected poems sold…two copies.
8 ) Emily's "Wuthering Heights" was published in 1847, however did not find the instant success that Charlotte's "Jane Eyre" (book review) did.
9) Emily died of tuberculosis a year after "Wuthering Heights" was published.
10) In 1850, "Wuthering Heights" was published in a second edition, this time however Charlotte wrote an introduction explaining why she thought it was superior to "Jane Eyre".
Zohar – Man of la Book
--- Please like and follow ManOfLaBook.com ---