Yesterday I posted about the book Eleanor Roosevelt's Life of Soul Searching and Self Discovery by Ann Atkins (my thoughts) which is the first in the "Flash History" series. Mrs. Roosevelt has always been a fascinating historical figure and I was happy to learn more about her.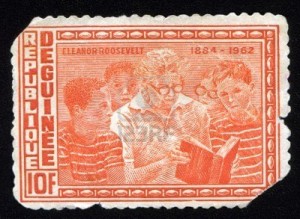 1 ) Eleanor Roosevelt was educated by private tutors till the age of 15.
2 ) Her mother called her "Granny" because she was so serious and old-fashioned.
3 ) she played varsity field hockey at Allenswood.
4 ) Roosevelt means rose field in Dutch.
5 ) She was President Theodore Roosevelt's niece. He gave her away at her wedding to Franklin, who was her fifth cousin once removed. Eleanor and Franklin shared a mutual ancestor, Claes Martenszen van Rosenvelt who came from Holland to New Amsterdam (today's New York) around 1649. Eleanor's great-great-great-great grandfather, Johannes Roosevelt, and Franklin's great-great-great grandfather, Jacobus Roosevelt, were brothers. Johannes and Jacobus were sons of Nicolas Roosevelt who was the son of Claes.
6 ) Franklin called her Babs.
7 ) The only thing Eleanor Roosevelt knew how to cook was scrambled eggs.
8 ) Mrs. Roosevelt  wrote a syndicated newspaper column called "My Day" from 1935 to her death in 1962.
9 ) In a 1951 Eleanor Roosevelt listed 7 people who shaped her life for a Look Magazine article. The first two were her father and mother: her father provided her love and reassurance, and her mother gave her the unattainable goal of perfection. Madame Marie Souvestre, headmistress and a teacher at Allenswood School, gave her a sense of confidence, and her Aunt Pussie (Mrs. W. Forbes Morgan) taught her discipline.
10 ) Eleanor wrote a total of nine books.
Zohar – Man of la Book
Related articles
--- Please like and follow ManOfLaBook.com ---