Today we mark the birthday of Dashiell Hammett (1894 – 1961), born Samuel Dashiell Hammett. A prolific writer who popularized the hardboiled detective fiction, Mr. Hammett wrote such classics as "The Maltese Falcon" and "The Thin Man".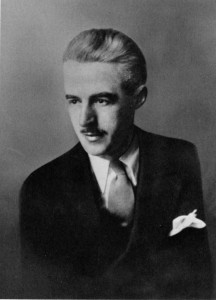 1) Hammett left school at age 13.
2) He worked for Pinkerton's detective agency for eight years.
3) Hammett's style of descriptive violent emotional events which were both authentic and realistic was coined "hard boiled".
4) During World War I Hammett enlisted in the US Army, he served in the Motor Ambulance Corps. During his service Hammett contracted tuberculosis and spent the war as a patient in Cushman Hospital. At the hospital he met his nurse and future wife, Josephine Dolan.
5) Hammett and Dolan had two daughters (Mary Jane and Josephine). However the family had to be separated due to Hammett's TB. The marriage fell apart but Hammett continued to support his wife and daughters financially.
6) Hammett enlisted in the US Army again in World War II, even though he was considered a disabled veteran of World War I. Most of the war he spent editing an Army newspaper in the Aleutian Islands.
7) Hammett was head of the Civil Rights Congress (CRC) of New York which was later designated by the US government as a Communist front.
8 ) Refusing to testify in order to convict 11 CRC members, Hammett was charged with contempt of court. He spent his time in federal jail cleaning toilets.
9) During the 1950s Hammett was blacklisted for refusing to cooperate with the Senate Permanent Subcommittee on Investigations as part of Senator Joseph McCarthy's attempt to identify Communist influence on American society and politics..
10) There are several fictional books featuring Dashiell Hammett including "Hammett" by Joe Gores in 1975 (later turned into a film by the same name), "Locked Rooms" by Laurie R. King where Hammett assists Sherlock Holmes and Marry Russell to solve a mystery and "Devil's Garden" (book review) by Ace Atkins where Hammett, still a Pinkerton detective, works the Roscoe "Fatty" Arbuckle murder case.
Zohar – Man of la Book
References:
Contemporary Literary Criticism
Hard-boiled mystery writer Dashiell Hammett is born
Related articles
--- Please like and follow ManOfLaBook.com ---