Colin Thiele, born today 16 November, 1920 (d: 4 September 2006) was an Australian award winning author and educator who published over 100 books.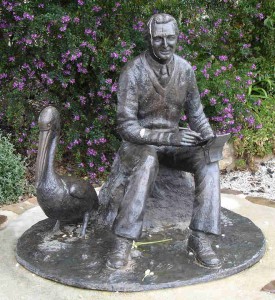 1)  Born in South Australia, Colin didn't speak English until he went to school, instead he spoke German due to his family's Barossa heritage.
2 ) In order to go to high school (Kapunda High School) Thiele had to ride his bike for 4 kilometers in order to catch the 0600 a train. He got back home at 2030.
3 ) In 1940 Thiele enlisted in the Australian Army. He finished his service in 1942 after being transferred to the Australian Air Force
4)  In his books, over 100 as mentioned above, Thiele described life in rural Australia, especially in the regions where he grew up.
5 ) There is a narrow neck of sand dunes in the south-east coast of South Australia called The Coorong. The neck is 145 kilometers long and has become part of the Australian consciousness thanks to a children's book called Storm Boy which Thiele penned.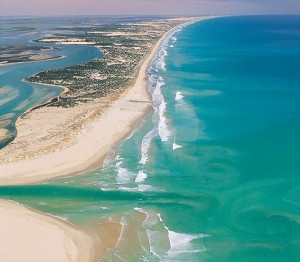 Image from: Where legend greets the sea
6 ) Thiele wrote another book called, appropriately enough, Coorong in which he called the wild area an "inestimable value to South Australia and the whole of humanity.
7 ) Valley Between, earned Thiele the Australian Book of the Year Award in 1982. In 1951 he was the South Australian winner in the World Short Story Quest. In 1967 and 1968 Thiele won the Hans Christian Anderson Award. In 1979 and 1986 Thiele won the Austrian State Prize for Children's Books. Other awards included 2 Commonwealth of Australia Jubilee Federal Arts prizes, the Grace Levin Poetry Prize and the Dromkeen Medal in 1997.
8 ) The University of South Australia named the library at the Magill campus after the author (The Thiele Library) while he was still alive. Gold Grove High School named the Senior Student Shared Library after Theile. Matthew Flinders Angelican College has a Secondary House Thiele.
9 ) A section Highway B81 in Australia is named after the author.
10) There is a Colin Thiele Literature Scholarship, established by the South Australian government, which assists writers under 26 to develop professionally and get training.
Zohar – Man of la Book
--- Please like and follow ManOfLaBook.com ---