Bertolt Brecht (10 February, 1898 – 14 August, 1956) was a playwright, theatre director, and poet from Germany.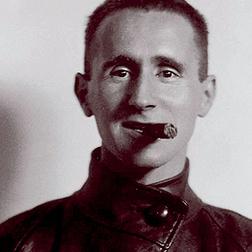 1)      His full name was Eugen Berthold Friedrich Brecht, as a child he was simply called Eugen.
2)      His first newspaper articles were under the name Bert Brecht.
3)      Hanne Hiob, a successful German actress, was the daughter of Mr. Brecht and his first wife Marianne Zoff, an Austrian opera singer.
4)      Mr. Brecht's second wife, Helene Weigel, was an actress and collaborated with her husband often.
5)      Charlie Chaplin's The Gold Rush and Sergei Eisenstein's Battleship Potemkin had significant impact on Mr. Brecht.
6)      When visiting the United States, Mr. Brecht and Mr. Chaplin met and discussed Chaplin's Monsieur Verdoux project.
7)      Mr. Brecht left Nazi Germany in 1933 fearing persecution.
8)      During World War II Mr. Brecht wrote for the Exilliteratur, an anti-Nazi movement of authors expressing opposition to the National Socialist and Fascist regimes.
9)      During the Cold War, Mr. Brecht was blacklisted by movie studio bosses, interrogated by the House Un-American Activities Committee.
10)   The house which Mr. Brecht was born in is now the Brecht Museum.
Zohar — Man of la Book
*Ama­zon links point to an affil­i­ate account
--- Please like and follow ManOfLaBook.com ---