Beatrice Schenk de Regniers (16 August, 1914 – 1 March, 2000) was a beloved writer of children's picture books.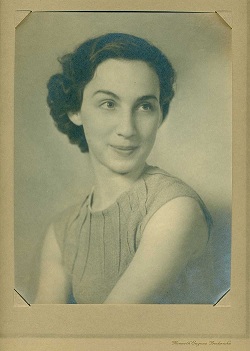 Books by Beatrice Schenk de Regniers
The author's last name is pronounced "drain-yay"
One of de Regniers earliest memories is her mother reading folktales and fairytales every night.
One of Beatrice's favorite teacher was the sponsor of the school's newspaper sponsor and let her be on staff even though she was only a freshman. Soon Beatrice had a regular column (Diary of a Cub Reporter) and by the time she graduated she was editor-in-chief. Until her death, Beatrice considered that time as "the most important part of my school life".
In college Beatrice studied philosophy but wanted to switch to theatre. However, switching to theatre disappointed her parents, so instead Beatrice chose to attend the School of Social Service Administration at the University of Chicago. She then went on to attain a Masters Degree in education from Winnetka Graduate Teachers College in 1941.
Beatrice went overseas as part of the United Nations Relief and Rehabilitation Administration to help with Yugoslavian refugees who had landed in Egypt's displaced person camps during World War II.
While in Egypt Beatrice got seriously ill and spent 3 months in a hospital in Cairo. In the hospital she met Francis de Regniers, the man who would become her husband in 1946.
When the couple came back to the US Beatrice wrote nonfiction, short stories, and columns for papers. Soon Beatrice found herself drawn to the publishing industry and managed the Scholastic Book Club, Lucky
Beatrice's first published book, The Giant Story, was illustrated by Maurice Sendak.
Beni Montresor won the annual Caldecott Medal for May I Bring a Friend?
Beatrice wrote over 50 books, ten were published under the nom de plume Tamara Kitt.
Books by Beatrice Schenk de Regniers
Zohar – Man of la Book
--- Please like and follow ManOfLaBook.com ---