Recently I read the novel Anna Karenina (my thoughts) which, to my surprise, I liked. It is a complex novel and upon doing more research on the subject, I decided it merits its own Fun Facts post.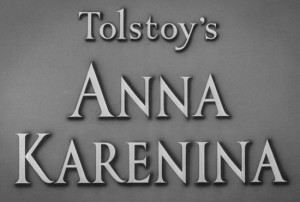 1 ) Anna Karenina was originally published in serialized form from 1873 to 1877 in The Russian Messenger.
2 ) Leo Tolstoy's political views were unpopular at the time and he clashed with the periodical's editor. Hence the first complete appearance of the novel was as a book.
3) Anna Karenina's character was inspired by Maria Gartung, daughter to Russian poet Alexander Pushkin.
4) Critics dismissed the novel as a "trifling romance of high life". Not taking their cues from critics author Fyodor Dostoevsky said it to be "flawless as a work of art" and Russian writer Vladimir Nabokov admired "the flawless magic of Tolstoy's style" while American writer (and Nobel laureate)William Faulkner called it "the best ever written".
5 ) A 2007 poll of 125 writers declared Anna Karenina as the "greatest novel ever written".
6 ) The title of the book has sometimes been naturalized as Anna Karenin (which is what she would be called if she was married outside of Russia).
7 ) Nabakov favored removing the Russian 'a' but other translators left the Russian name.
8 ) Many details of the Leo and Sofya Tolstoy's courtship appear in Levin and Kitty's romance.
9 ) Levin is believed to be a semi-autobiographical representations of Tolstoy as he holds the same believes, struggles and experiences.
10) At the time Tolstoy wrote Anna Karenina divorce in Russia was a complicated, expensive and humiliating procedure. There were only three situations where divorce would be granted: physical disability of spouses, a missing spouse (for years), or adultery.
Zohar – Man of la book
Related articles
--- Please like and follow ManOfLaBook.com ---