Alexander Pushkin(6 June, 1799 – 10 February, 1837) was Russian author, considered one of the greatest Russian poets and is considered the founder of modern Russian literature.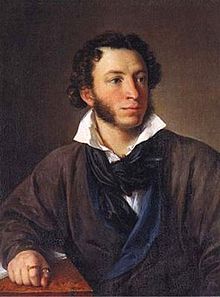 Pushkin was a Russian nobleman.
Besides novels, Pushkin also wrote fairy-tales in verse.
Pushkin's great-grandfather, Abram Petrovich Gannibal, was born in Northern Abyssinia (Ethiopia) in the 1690s. Abram was kidnapped from Ethiopia when he was eight years old by a "Frenchman collecting animals and other curiosities for Louis XIV" of France. Shipped to Istanbul, he was placed in the Sultan's seraglio where the Russian ambassador found him and sent him back to Russia as a present to Peter the Great.
Peter was so taken by Abram that he baptized the child and became his godfather.
Pushkin took great pride in his African ancestry even though he was picked on as a child because of his different looks.
Pushkin portrayed the Tsar in some of his poems as a cruel and boorish man, hence he was promptly sent to the southern provinces to work as a clerk (a punishment for a nobleman).
Pushkin Was a Member of the Decembrists, a group of high-born Russians who wanted to honor Russia's peasants(people of Russia) by writing laws that could be understood by everybody, defend them against the current Tsarist rule, and give them rights as citizens of the By writing in Russian (instead of French), Pushkin contributed to the Decembrist movement by and earned the title the "Father of Russian Literature."
Nadezhda Durova published her important memoir, The Cavalry Maiden, as a female soldier(while disguised as a man) in the Napoleanic wars was helped by Pushkin who encouraged her to publish her journal.
Pushkin fought 29 duels during his lifetime.
Pushkin died 2 days after getting shot in a duel he had with his wife's brother in law for a duel (he was charged with trying to seduce Pushkin's wife).
Zohar – Man of la Book
--- Please like and follow ManOfLaBook.com ---