Last night, while "flutzing" around I discovered a link to the free audio download of "Go the F—k to Sleep" by Adam Mansbach (website | book website) narrated by Samuel L. Jackson.  This is a short book, much like the good night books you read your kids and the audio lasts about six minutes.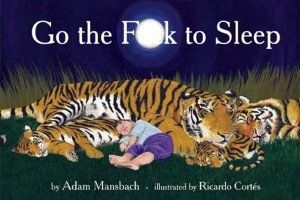 Buy & Save on "Go the F–k to Sleep" through the ManOfLa­Book affil­i­ate account on:
Ama­zon |Book Depos­i­tory US | Book Depos­i­tory UK
My wife and I were laughing the whole way through. If it were up to us Mr. Jackson would receive an Grammy for his reading. In  "Go the F—k to Sleep". Adam Mansbach basically writes down what every parent thinks but never said ("Bullshit, I know you're not thirsty").
While I love reading books to my kids before bed, I despise the whole night time routine. It seems that we move from one fight to the next until they are finally in bed.
Correction, until at least the youngest (4) is finally in bed.  G-d forbid that his older sister, six going on sixteen and wise beyond her years, will go to bed until she has a 30 minute buffer – tired or not.
In my kids' defense, some of the time they are making fun of their old man. Putting up a fight just to see me scrambling to stay sane. I'm sure one day it will be funny.
I can almost write a nightly script:
Me: you can't take a bath, it's too late.
Four: I don't want a shower.
Me: I told you that if  we play ball we won't have time to take a bath
Four: Bath!
Me: No!
Four: Baaaaaaaaaaaath!
Me: No – and that's FINAL!!!!
He finishes with his bath, it's a bit later but never mind, we still have to go through the agony and anguish of picking suitable pajamas:
Me: Look, here is Buzz and Woody.
Four: I want my Batman pajamas.
Me: They're dirty, remember you spilled your cereal on them in the morning.
Four: But I want them…
Me: They're yucky
Four: No they're not
Me: Yes they are. They're stinky and you can't wear them! That's that and you can cry all you want.
I finish cleaning the Batman pajamas with some wet wipes. We now start the whole tooth brushing exercise, yucky toothpaste and all. At this point I stopped explaining to him why he has to brush his teeth.
Don't look at me funny – you can't rationalize with four year olds (or fourteen or 24 and sometimes 44). They just have to do brush their teeth – no options.
Finally, he is nice and tired, pooped out from the nightly exercise in futility.
– Story
– Kiss
– Hug
I'm almost there, I go to turn off the lights, I reach out to the salvation known as the light switch, my finger is already on it. My boy is tired, he is laying down with eyes half shut.
I can hear the popcorn in the pantry just calling my name.
Just then "Miss Thing" walks in:
"Daddy, I want a snack".
"Me too…"
So tell me, how is your night time routine with kids? Any tips?
Zohar – Man of la Book
Related articles
--- Please like and follow ManOfLaBook.com ---