About:
False Friends by Stephen Leather is a fictional book in the Dan Shepherd series. This is the 9th book in the series, but can be read as a standalone book.
512 pages
Publisher: Hodder & Stoughton
Language: English
ISBN-10: 0340925000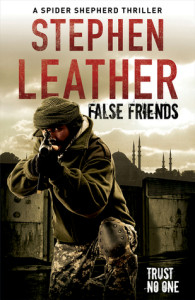 My rat­ing for False Friends — 4
Buy this book in paper or in elec­tronic format*
Thoughts:
False Friends by Stephen Leather (website | Facebook | @stephenleather | Blog) was my first Dan Shepherd book and it was a pleasant surprise. Even though I haven't read any of the other books in the series, it did not interfere with this story.
The author, through his characters, really doesn't like the US, especially its politics and actions as a country. Those parts are not comfortable to read, but as a follower of current events I am well aware how the US is viewed in many parts of the world so it was no surprise to see so in print (again). The author also gives voice to several moderate Muslims, many which exist, to counter the extreme Muslim voices we hear on a regular base.
The story moves along at a descent pace and the plot line is engaging and the characters are well drawn. I'm sure Shepherd's character has evolved over the series, but I did not feel that I missed out on anything. The characters of the Pakistani informers are especially well thought out, both are from good families and faithful to their Muslim beliefs, but cannot justify the acts committed in their names.
One of the strengths of this book, I found, is that the characters felt real. The way they talked and acted seemed natural to their fictional identities, Leather goes into details about undercover assignments, not the daily drudge, but the psychological damage done to a person and his/hers families when living a lie day after day.
There has been a bit of controversy in the bookish world with this book. It seems that Mr. Leather set up false accounts on bookish websites to give himself good reviews and create a buzz. I can assure you that this review is not one of them. False Friends is not a bad book by any means, there are other ways to create buzz (blog tours, etc.) which are both affordable and create legitimate buzz around a book from trustworthy sources. This is a descent book which can stand alone on its own merits, there was no need to go to such lengths.
Synopsis:
Two English citizens of Pakistani descent, Malik and Chaudhry, are bothered with the terrorism activities done in the name of their religion. Dreaming of careers in medicine and hospitality they help MI5 with information which leads to the assassination of Bin-laden.
Al-Qaeda realize that there is a traitor in their mist and, while trying to plan a massive terror plot in the UK the organization involves the informants. Shepherd is the handler of Malik and Chaundhry, he must help them keep their cool until the plot is foiled.
Buy this book in paper or in elec­tronic format*
Zohar – Man of la Book
Dis­claimer: I got this book for free.
*Ama­zon links point to an affil­i­ate account
--- Please like and follow ManOfLaBook.com ---