Acclaimed novelist Thomas Waite shares this short excerpt from Unholy Code, the latest thriller in his Lana Elkins series.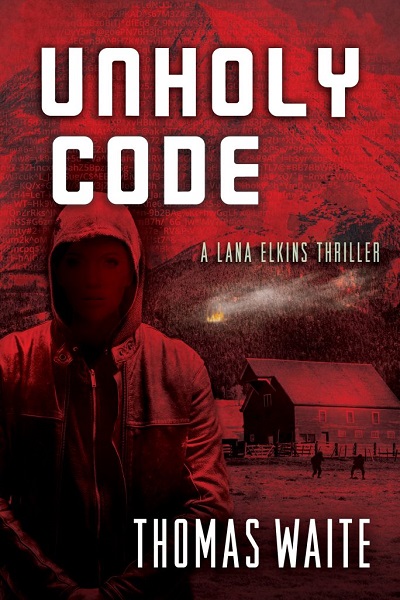 "Look at the water, boy."
Vinko peered at its smooth surface and saw his reflection.
"Your face is white as the clouds, isn't it? Just like everyone else you see around here."
Vinko understood. He'd never known anybody who wasn't white.
They'd fished until sundown. After gathering up their gear, his father told him to look at the water again. The blood-red colors had appeared, darkening the boy's face.
"You're no longer white. That's what's going to happen if we let the sun set on America. The white will disappear, and we'll pay for it with blood."
His father had been right. The men in his family had all known that the most important threat of all wasn't a gun or a knife, or even the mongrel races raging to get everything that belonged to whites. But it was all about blood.
* * *
A seventeen-year-old is impulsive.
A seventeen-year-old feels immortal.
A seventeen-year-old doesn't understand that death can come in a whisper.
Emma. I imagine my hot breath on her ear. I can help you.
So her parents will be right to shudder at the fact that Em is now vulnerable to the scores of terrorists stalking American cities and hinterlands, hunting for ever more horrors to visit upon the nation.
But don't worry about all that.
Those are the exact words I would tell them if I could. They need only worry about me. And it's too late for that. Their only child is trying to free herself of too much too soon, and all she's really done is seal her fate.
The one I've planned for her.
And you shall share it, Lana.
The chainsaws are oiled and calling. Can you hear them? Here, I'll start one.
How about that? Can you hear it now? The blade sounds angry, doesn't it? Like it could cut through skin and bone and the last scraps of hope in a dying girl's heart. I won't let you die without seeing that, Lana. I promise.
That's how a mother gets to die twice.
Excerpted from UNHOLY CODE © Copyright 2016 by Thomas Waite. Reprinted with permission by the author. All rights reserved.
Description 
The "Summer of Blood" explodes. The U.S. is under siege from foreign jihadists and domestic terrorists. When a brilliant exploit strikes at the heart of the National Security Agency's own network, former NSA operative Lana Elkins discovers that it came from within the United States itself. More surprising still is the attacker: "Steel Fist," a cyber-savvy radical white supremacist whose legions feed on his anti-Islamic exhortations. His popularity only grows when a jihadist team carries out a bold, but baffling, attack on the Louisiana coast, bringing ashore a lethal invader no one can see.
Most mysterious of all are Golden Voice, a hacker of unparalleled skill with a murderous agenda and a secret past, and Tahir Hijazi, a Muslim refugee from Sudan with his own shadowy history. When Tahir's young nephew starts dating Lana's daughter Emma, Steel Fist calls upon his fans to embark on a new mission: assassinate the entire Elkins family.
As extremists battle each other—with Lana fighting both ends from the middle—the conflict becomes deeply personal, the stakes tragically high.
In Thomas Waite's edgiest tale yet, battles savage the American heartland, shaking the very foundations of the world's mightiest nation.
Author Biography
Thomas Waite is the bestselling author of the celebrated Lana Elkins thriller series. Lethal Code was declared "Taut, tense, and provocative" by Hank Phillippi Ryan, the Agatha, Anthony, and Mary Higgins Clark Award-winning author, who quickly added "…this frighteningly knowing cyberthriller will keep you turning pages—not only to devour the fast-paced fiction, but to worry about how much is terrifyingly true." Trident Code followed in form. "Scary good," according to King Features columnist Dale Dauten: "The science and technology are as convincing as they are chilling, with an original trifecta of cyber, nuclear, and environmental terrorism all worked into one wild ride of a plot." Unholy Code now finds Elkins fighting enemies of all stripes in the heart of America, battles that rage on the ground, in the air, and in the ever-escalating violence of cyberspace.
Waite's first novel, Terminal Value, reached #1 at Amazon. One reviewer wrote, "Terminal Value is to the corporate world what John Grisham's The Firm is to lawyering: a taut, fast, relentless thriller. A most impressive debut novel."
Waite is a board director of, and an advisor to, a number of technology companies. His nonfiction work has appeared in The New York Times, the Harvard Business Review, The Boston Globe, and The Daily Beast. He lives in Boston.
Links
Author Website
Facebook
www.facebook.com/ThomasWaiteAuthor/
Twitter
@thomasjwaite
 Goodreads
www.goodreads.com/author/show/4900150.Thomas_Waite
--- Please like and follow ManOfLaBook.com ---