To cel­e­brate the recent release of Steven Luna's lat­est book, Booktrope, the pub­lisher is giv­ing away an eBook of Songs from the Phenomenal Nothing to two winners!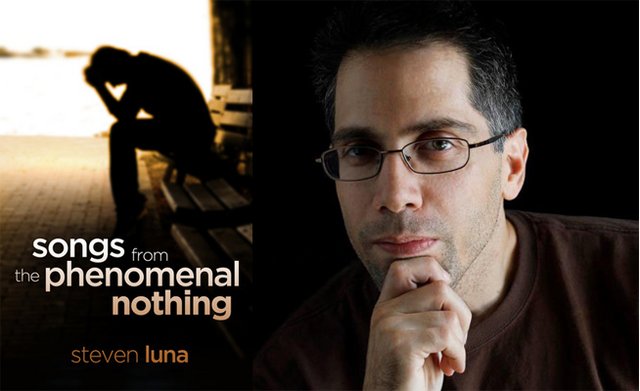 Why Rock Stars Make Great Dads
Starting ten minutes ago when I realized I have a guest post I need to write, I've begun wondering what it would like to have a rock star as a dad. It's probably not something rock stars themselves think about much while they're rocking out on the Casino-and-State Fair circuits, but there are many aspects of these musical Peter Pan figures that lend themselves to fatherhood. Self-restraint in public and an ability to control their substance consumption may not be on the list of those, but none of us are perfect.
Try reading this run-down and wishing YOUR dad wasn't a rock star. I bet you can't do it.
They know how to have a good time. It wasn't a stodgy blowhard who wrote, "I wanna rock and roll all night and party every day." Likewise, it wasn't a stick-in-the-mud who penned, "Ma-mama weer all crazee now."  So imagine having a rock star roll out at a birthday party between the bounce house and the balloon twister dude, with his tongue wagging and his finger horns in full effect. Blasting his way through those classics – and more. And then imagine he's the father of the birthday kid. He's like a clown and a pirate and an acrobat all shoved into one inappropriately-sized rivet-studded Lycra casing, only made more awesome by his vest made of survival cord and buckles. He might even be 65% sober by the time he hits the "stage." And he'll put on a party those other kids' soccer moms won't soon forget. They'll be swooning. The dads will be head-banging. Everyone has a good time, and there's no contract riders to haggle over. Sorry Bozo; maybe next year. This one belongs to Dad.
Their schedules lend themselves to raising a child. Mom doesn't want to be bothered at two in the morning to deal with junior's teething? No need for her to even think twice. Dad's still up shredding on his flying V and trying to come up with a rhyme for "bodacious thong." He'll be more than happy to handle the Baby Anbesol and make sure the little guy has a frozen teething ring before he gets back to the Business of Rocking. This is just as true for midnight feedings, one o'clock potty trips, that three o'clock "I need a dwink" crap kids pull sometimes, and the four o'clock "I'm up now, dammit –and so are you!" Bon Jovial has it all under control… or maybe he's passed out in the middle of it and your kid has dumped the contents of his bottle in the guy's righteous rock and roll hair. It's very likely he's had worse stuff than Juicy Juice stuck in there over the years. And speaking of defying convention where general self-care is concerned…
They have a carefree lack of responsibility that kids can really identify with.  Think about it: you as the child of a rock star opt to not clean your room for, oh, two or fourteen months. Small animals have designated the various piles as their winter homes. There's so much penicillin growing on the food you've left everywhere, visitors are cured of their sinus infections and UTIs just by breathing the air in the hallway. And the crusted stack of unwashed clothes cluttering the floor is so tall it has officially subtracted forty square feet from the total living space of the home itself. Do you really think this matters to the man who traveled from city to city making sure the coffee table from every hotel room he stayed in ended up in the lap pool? Or that he'll call you on your untidy tendencies when he himself set fire to no fewer than seventeen sets of luxury bedding just to see if he could set off ALL the fire alarms on the seventeenth floor? None of your messes have ever resulted in charges of criminal mayhem being pressed by Marriott… or a secondary eviction from a Howard Johnsons afterward. Compared to him, you're Heloise, Mr. Clean and the Dow Scrubbing Bubbles all rolled into one. He's not gonna say a word.
It's just me and him. Him and me. A man I can't comprehend, designated by the universe as my father but someone I prefer to call Tom, and a kid he can't relate to but calls son anyway because he's determined to try. I really wish he'd just call me Tyler.

He probably wishes I'd call him Dad.

But I'm not comfortable with that at this point.

Our differences and our lack of mutual understanding are the only things we seem to agree on. And even those get heated sometimes.

Seriously, it's a miracle that we haven't hurt each other yet.

            I'm not sure how much longer we can hold out.

***

Seventeen year-old guitar prodigy Tyler Mills has become lost in the aftermath of his mother's death. Disconnected more and more from his father, he takes refuge from it all in two things: his music and his girlfriend. But everything changes with the chance discovery of his mother's journal—and the long-held family secret within that could alter his life forever.

Steven has previously written adult comic fiction (the Joe Vampire series) but is heading in a much more emotionally-sincere direction with Songs and hopefully moving toward a broader audience.
Give­away
Give­away ends: October 10, 2013

Win­ners will have 24 hours to write back with their address, oth­er­wise an alter­nate win­ner will be picked
Congratulations: natanna@, jierushi@
--- Please like and follow ManOfLaBook.com ---