As a big proponent of public education (and a critic) I realize the tough jobs teachers face and, as a former part-time instructor, I know the difficult job at hand. However, schools no longer teach a comprehensive, deeper understanding of literature due to the pressure on teachers to teach for standardize tests at the expense of critical thinking abilities.
Six years ago, that became my job.
Last weekend I took my son (3) to Barnes & Noble for a cup of coffee (daddy), a Batman book (for him but that's often disputed in our household) and a creme puff which he generously split with his old man. While at the store I was looking for a book for my daughter (6), because as you know, a parent cannot buy for one child without the other getting anything.
The fact that mother and daughter went $hopping for a $ummer wardrobe the day before is, seemingly, inconsequential when it comes to bestowing Bat-gifts upon her younger brother.
Due to my spectacular failures of intro-to-classics in the past ("Charlotte's Web" by E.B. White and "Charlie and the Chocolate Factory" by Roald Dahl) when she was younger I had to be extra careful. My beloved wife also had a few words of caution. According to her I'm a freak of nature, I read many of the classics before I was 12 (although I enjoyed Chipopo the monkey a lot more) which is most likely the cause of my failures to introduce books with complex themes to my young children. After all, I cannot remember if I enjoyed "Charlie and the Chocolate Factory" at age six or ten.
If you've never been at a book store's kids section, they have a wall of classics. Some of the classics are the full length novels which, quite honestly, scare even the most voracious readers. However, many of the books are abridged version which I think are perfect as an introduction to the stories we love because they tone down (not dumb down) the vocabulary and complexity. There is even a whole "classic starts" series.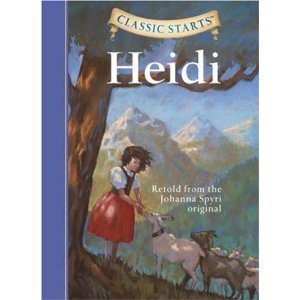 I chose Swiss author Johanna Spyri's "Heidi". A book often referred to by a quote from the author as: "for children and those who love children". This is a simple book as there are no complicated plot lines which will frustrate the child. The abridged version's chapters are short (3-10 pages or so) and the theme of "grandfather" has been prominent in our house since my dad past away recently.
I also noticed that children like to read about someone which is the same sex and same age, actually a year or two older is usually preferable. I almost blew it this time also. It appears that it is a major faux pas to compare a six (AND A HALF!!!) year old American princess with a five year old Swiss goat herder. Not due to the occupation, but due to the vast difference in ages – but we quickly got over that hurdle.
But before we begin I had to do a little research. I haven't read "Heidi" in a long, long time. I wanted to do some research so I'll be able to answer questions and put the historical and social issues which might be brought up in context if needed. Granted, "Heidi" doesn't have many of those issues but if you're reading Twain or Dickens prepare to be prepared.
So we started.
Currently I read a chapter a night, sometimes two, but no more. We had a short conversation about each chapter after we finished. What was the chapter about? What happened? What did she think is going to happen?
Currently we're still going strong!
What have I learned?
• The story must be good. I'm aware that these books are "classics", but all kids want is a good story – not labels. Which means…
• Don't discount current literature. Today's Harry Potter is tomorrow's classic book.
• Not every literary classic is appropriate for your child. Only you can make that determination.
• The protagonist should be of the same sex and age or a bit older.
• You must be able to read the story out loud.
• There is nothing wrong with getting the abridged version, you want to encourage your kids to read, not challenge them with themes and vocabulary they are not yet ready to tackle.
• Don't go by your own experience. Time blends together quickly and while you might have loved "Black Beauty" when you were eight (or was it seven? twelve?), your six year old might not be ready for it.
• Even if your child can read, make sure you read with them. This will open up room for discussion and critical thinking. Discussions can also give context which kids do not know to even ask.
• Always read at least a chapter ahead.
• Make sure you beef up on the historical and social issues in the book.
• Don't overlook teachable moments (see previous two points).
• Most important: make it fun – the book must inspire the child to want more and should not be considered a task.
Update- 17 August, 2011
Find out what's the right time for you to read these type of stories. For us, bed time wasn't good so we scheduled a time after dinner.
Listen to some professional audio-books. These are not the Dr. Seuss type books and need more refinement. I downloaded a few books from librivox.org which really helped me out a lot.
So tell me: Do you have any other tip? What did you do?

Zohar – Man of la Book
Related articles
--- Please like and follow ManOfLaBook.com ---
Summary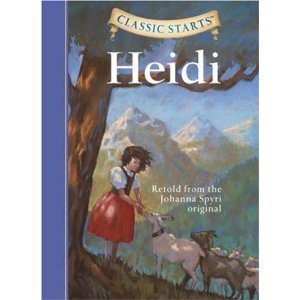 Article Name
Classic Lit for Kids – Getting Started
Description
I also noticed that children like to read about someone which is the same sex and same age, actually a year or two older is usually preferable
Author
Publisher Name
Man of la Book - A Bookish Blog
Publisher Logo