About:
Bravo Two Zero by Andy McNab is a bestseller describing a patrol by the English Special Air Services (SAS) in Iraq during the Gulf War. The book was recommended to me by Helen Maryles Shankman (http://helenmarylesshankman.wordpress.com/).
432 pages
Publisher: Island Books;
Language: English
ISBN-10: 0440218802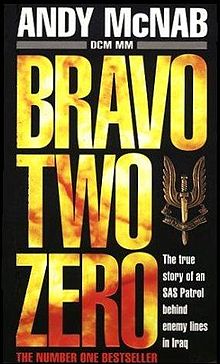 My rat­ing for Bravo Two Zero— 4
Buy this book in paper or elec­tronic format*
Thoughts:
Bravo Two Zero: The Harrowing True Story of a Special Forces Patrol Behind the Lines in Iraq by Andy McNab (website| Facebook | @the_real_mcnab)  was recommended to me, as mentioned above, and simply by reading the synopsis I thought I'd like the book.
However, as someone with military experience I have to call bullshit on some of the stories. I don't know about the torture scenes and frankly hope never to find out, but some of the operational procedures and bravado seems to be utter machismo more to do with a Hollywood movie than with a book presenting itself as fact.
For example, no way did an eight man team kill 250 people or took on a whole platoon and/or company by themselves. They might have killed a few and ran away (as would be the smart thing to do) but I seriously doubt the numbers presented. The problem with such statements, as we all know, is that one wrong statement in any presentation puts in doubt the rest of the valid or factual points.
That being said, I did enjoy the book. I thought it was interesting to get into the mind of an SAS man, the psychology of going behind enemy lines and the terror of getting caught. The harrowing physical and mental challenges those guys faced in the Iraqi desert as well as the no-nonsense storytelling style puts the reader right there next to the men on patrol.
For those who like special operations or want to learn more about the esteemed SAS this book is an excellent choice. The book is an easy read, a well written adventure story and even inspiring on several levels.
Synopsis:
in 1991, eight British special forces SAS men went out on patrol to take out scud missiles fired from Iraq into Israel. Only five came back. Sergeant Andy McNab was their leader and the patrol was call sign was Bravo Two Zero.
Carrying 210 lbs. the patrol found themselves in troubles from the start. Finding themselves surrounded, they eventually got caught and harshly interrogated.
Buy this book in paper or elec­tronic format*
Zohar – Man of la Book
Dis­claimer: I bought this book
*Ama­zon links point to an affil­i­ate account
--- Please like and follow ManOfLaBook.com ---