Teddy Roosevelt, the 26th President of the United States, was a self-proclaimed "book lover" throughout his life. Recently my family and I had the opportunity to visit his home "Sagamore Hill", in Oyster Bay, NY. This home represents everything President Roosevelt was, there is not a touch of femininity in that home.
It is a fascinating place, many of his trophies, and gifts adorned the walls in every room. A special room that displays his presidential gifts (at that time presidents were allowed to keep them), including a Samurai sword, and his hat and blade from his time with the Rough Riders.
Mr. Roosevelt's home is filled with books. Almost every room has at least one bookcase, that belonged to either the President or Edith, his wife, both avid readers.
I could not check out what titles the Roosevelts had; I was too far away. The house is full alarmed, if a visitor even steps out of bounds, or touches an artifact, an alarm goes off and, unlike many other national parks, the police are automatically alerted (or so we have been told).
Mr. Roosevelt was known to read on a daily basis. In fact, he formed many views and shaped his values, based on his readings. Roosevelt, a conservationist throughout his life, believed at first that he needs to hunt animals and put them in a museum. Over time he changed his views, and is responsible for American's National Park System, Devil's Tower being the first monument (and well worth a visit).
The small museum on the property is fascinating, it includes Roosevelt's Nobel Peace Prize, and uniform, among many other fascinating artifacts. Including, to my amazement, "big sticks" due to his famous quote.
Zohar – Man of La Book
--- Please like and follow ManOfLaBook.com ---
Summary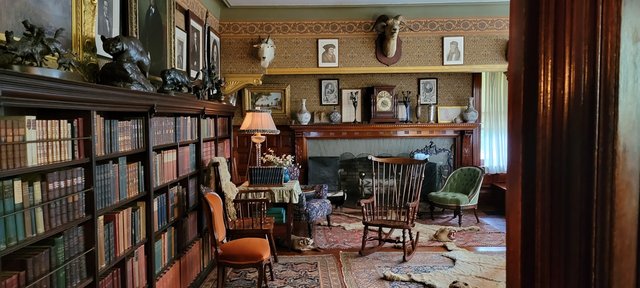 Article Name
Bookish Field Trip: Teddy Roosevelt's Home & Library
Description
Teddy Roosevelt, the 26th President of the United States, was a self-proclaimed "book lover" throughout his life
Author
Publisher Name
Man of la Book - A Bookish Blog
Publisher Logo