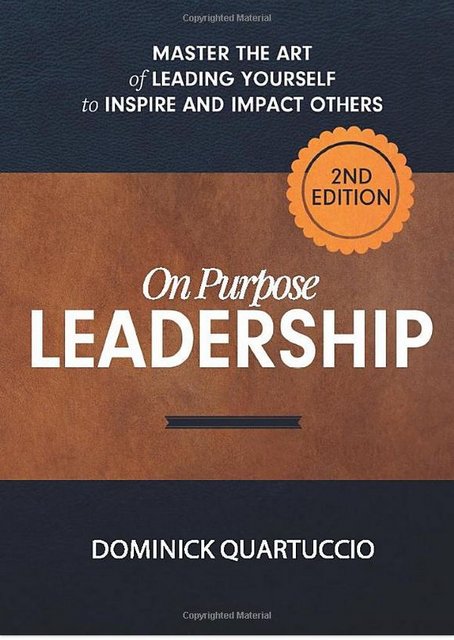 Book Synopsis:

There is a difference between success and fulfillment. This book is for the leader who demands both.You're professionally accomplished, you lead others to perform, and you drive results. Yet there's a part of you that is unsatisfied with achievement alone: You seek a deeper sense of purpose and fulfillment.
How can you instill that same passion in your team to help them become great leaders too?
People crave more meaning in the work they do and are no longer putting up with passionless work. They seek leadership rooted in purpose to ignite their natural drive, excitement, and creativity for the work they do.
You must show them the way, by living and leading on purpose.
Fans of Brene Brown, John Maxwell, and Simon Sinek will love this book and the practical leadership principles it shows you how to apply right now.
About the Author
Dominick Quartuccio's passion is helping people design a future they can't wait to live in. He once had it all – a so-called successful life and lucrative 15-year career in financial services, running sales teams in Fortune 100 companies. He led "a good life." The result? He was bored, restless and uninspired. So he left the corporate world and became a human guinea pig, subjecting himself to experiments and experiences that challenged him to assess his long-held beliefs and stories. Gradually, his behavior changed, and his life changed – for the better. Dominick is now a mentor, speaker, trainer and author dedicated to supporting others to be better versions of themselves. He helps successful, stressed and incredibly busy professionals take command of their habits – time, energy, focus and execution – so they can raise their performance in business and all aspects of their day-to-day lives. When he's not writing, speaking or coaching, he can be found devouring books, meditating, doing a push-up challenge or on an airplane (sometimes where he does all of these things).
Press Contact:
Author: Dominick Quartuccio dominickq@gmail.com | Website: www.dominickq.com
--- Please like and follow ManOfLaBook.com ---