About:
Wretches of the Trench: A Legends of Tivara Story (Scions of the Black Lotus #3) by J.C. Kang continues the story, and adds mystery to the fantasy series. Mr. Kang is a Chinese Medicine doctor, martial arts instructor, and technical writer to pen epic fantasy stories.
195 Pages

Publisher : Independently published
Language : English
ISBN-10 : 1712292684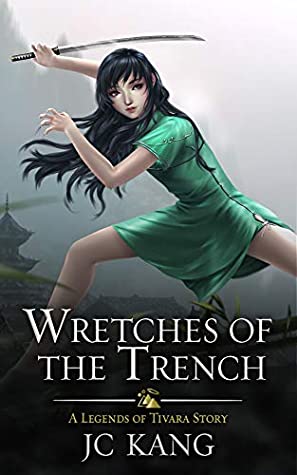 My rat­ing for Wretches of the Trench — 4
Buy Wretches of the Trench from Amazon.com*
More Books by J.C. Kang*
Thoughts:
Another enjoyable entry into the Scions of the Black Lotus series. This book went into a different direction than the other two, yet still building the universe and telling an engaging story.
Wretches of the Trench by J.C. Kang went on a different tangent than the previous two books, giving us a look into the former lifestyle of Yuna and her family. The author was attempting to help the reader understand how someone willingly gives up a child to be brought up by a criminal organization, hoping they won't be inducted in the sex-trade. The pain that comes with such decisions, the destitution which the poor feel that compels them to give up children to either give them a better life, or give their siblings a sliver of a chance.
Mr. Kang chose this device to also illustrate how much of a family the Black Lotus Clan is, and how much its valued by its members who are willing to give up their lives for organization.  Yuna's mother valued her sons over her daughter, but the Clan values family over sex or birth.
To make things interesting, there is also a serial murder on the loose in the slums, and corrupte Triad guards who are either interested in raping women, or taking bribes in the guise of "protection". The Black Clan team has no idea why the serial killer is targeting the slum residents, and true to character Jie doesn't care as long as she completes her mission and find out more about Lilian's betrayal from book #1.
This book is a bit darker than the previous two, but just as good. The ending was surprising and bittersweet, but I think the strength was focusing on the backstory of a side character to help us get a better perspective of this world.
Synopsis:
Half-elf Jie, pre-teen analytical genius Tian, and Yuna are on a mission in China's slums to assassinate a Triad boss. The boss might know of the existence of the Black Lotus clan, their goals, and tactics. There are two unexpected obstacles, a serial killer is on the loose, and Yuna recognizes her birthplace and family.
Buy Wretches of the Trench from Amazon.com*
More Books by J.C. Kang*
Zohar — Man of la Book
Dis­claimer: I got bought this book.
*Ama­zon links point to an affiliate account
--- Please like and follow ManOfLaBook.com ---