About:
White Sheep of the Family: A Legends of Tivara Story (Scions of the Black Lotus #2) by J.C. Kang continues the saga of Jie, the half-elf working for the Chinese criminal organization. Mr. Kang is a Chinese Medicine doctor, martial arts instructor, and technical writer to pen epic fantasy stories.
178 pages

Publisher :

Independently published


Language :

English
ISBN-10 : 1712280279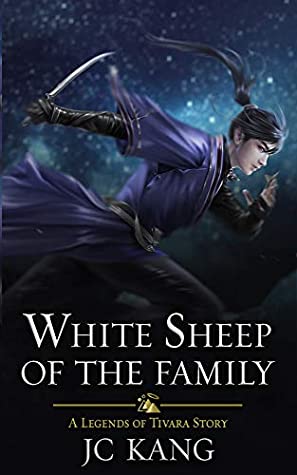 My rat­ing for White Sheep of the Family — 5
Buy White Sheep of the Family from Amazon.com*
More Books by J.C. Kang*
Thoughts:
This novella starts where the first book in the series ended, while still building the world around the narrative.  The book starts with an exciting introduction to a new character, Tian, while at the same time expends on the world the author built.
Unlike books in other series, you have to read to first one to understand what's going. One might be able to pick up the story-line here and there, but I think that this is one time where reading the first book is a recommended.
In White Sheep of the Family by J.C. Kang, the author still manages to tell a character driven story, adding depth to the characters and the world they live in. There are several twists and turns around the mystery left over from the first novel, and plenty of action to go along with them, but as I mentioned the character depth is where the strength of this novella is at.
The ending had a great twist which I wasn't expecting, and I enjoyed Tian's character who is a brilliant child, but still hasn't honed that filter between his brain and his mouth required in that line of work (and frankly, life in general). I'm enjoying this series very much, glad I'm reading out of my comfort zone, and am looking forward to the next installment.
Synopsis:
The story continues from where the first book, Thorn of the Night Blossoms, left off. A murdered lord, a half-elf who despite having unnatural abilities does not have the gift of analysis, and a fantastical world which merges the old with the new.
In this story we meet Zheng Tian, a banished ten year old aristocrat who has been on Death row, and saved by the Black Lotus Clan. Tian is not ready for a life with a criminal organization, filled with murders, and prostitutes who bruise his body and ego. He is, however, gifted with an impressive analytical brain and impressive memory which comes in hand during Jie's continuing investigation of the lord's murder and treason within the Black Lotus Clan itself.
Buy White Sheep of the Family from Amazon.com*
More Books by J.C. Kang*
Zohar — Man of la Book
Dis­claimer: I got bought this book.
*Ama­zon links point to an affiliate account
--- Please like and follow ManOfLaBook.com ---