About:
We Germans by Alexander Starritt is a novella which follows a long letter a German grandfather written his grandson about his thoughts on fighting on the wrong side of the war in World War II against the Russians. Mr. Starritt  is a Scottish-German novelist, journalist and entrepreneur
288 pages
Publisher: John Murray
Language: English
ISBN-10: 152931724X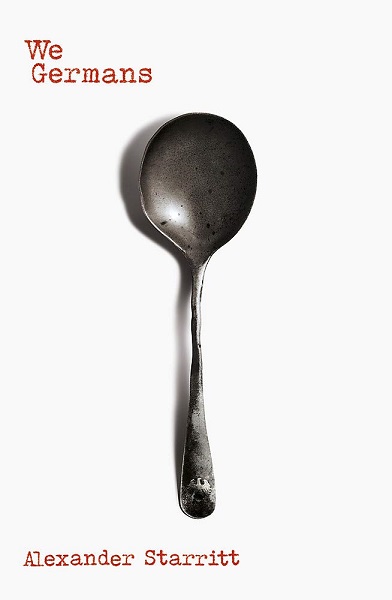 My rat­ing for We Germans — 4
Buy We Germans from Amazon.com*
More Books by Alexander Starritt*
Thoughts:
This novella reminded of the famous scene, later a meme, from the British comedy show That Mitchell and Webb about Nazi soldiers that ask "are we the baddies?".  While We Germans by Alexander Starritt is not as direct, the realization is clear as the grandfather pontificates on his reflections on war.
The grandfather and his three friends are in the midst of retreating from Russia, witnessing atrocities committed by their own forces against the Russian population and their own forces. The grandfather talks about his feelings of guilt and lies, coming to the realization that he's been on, what basically amounts to, a fool's errand.
This is a thought provoking book, as it goes into why an obviously evil regime was embraced by millions of Germans, as well as a person who is suddenly confronted with a good, hard look into a mirror and doesn't like what he sees. I think that the questions on lack of guilt and shame are very relevant in today's political climate around the world.
Maybe those questions never even went away?
The grandfather, Meissner, and his exhausted companions are living a nightmare for two and a half years. Somehow barely surviving, committing war crimes and treason as they make their way back home in order to live another day. Meissner is a small cog in the machine of war, he's just a grunt, not part of killing squads, had nothing to do with the Holocaust, but his realization that he is no only on the losing side, but on the wrong side as well, is crystal clear.
This is not a war journal per say. The author's descriptions are vivid, the characters are humanized and colorful. While Meissner does come across as a sympathetic figure, he is by no means a lovable one.
Among the grandfather's profound analysis there are comments from his grandson, which I found to be clumsy and an exact opposite to the grandfather profound pontifications. There are some validity to the story, his struggles as grandson to a German soldier living in England could not have been easy, but by and large I found them to be a distraction.
I enjoyed reading this book and its attempt to come to terms with the banality of evil. There are many other books, fiction and non-fiction, which talk about the subject, ranging from the German high command's realization that all is lost, to ones like this where the grunt on the field realizes that.
Synopsis:
This novella is told from the viewpoint of both the grandfather and the grandson. When the grandfather was alive, his grandson, now in England, asked him about the war and fighting on the wrong side. After the grandfather's death, a long letter is found telling of his experiences on the Eastern Front knowing that Germany is going to lose the war, and deservingly so.
Buy We Germans from Amazon.com*
More Books by Alexander Starritt*
Zohar — Man of la Book
Dis­claimer: I got this book for free
*Ama­zon links point to an affil­i­ate account
--- Please like and follow ManOfLaBook.com ---