About:
Us Against You by Fredrik Backman is a second novel which takes place in the fictional hockey township of Beartown. Mr. Backman has wrote several novels, his most famous is A Man Called Ove.
448 pages
Publisher: Atria Books
Language: English
ISBN-10: 1501160796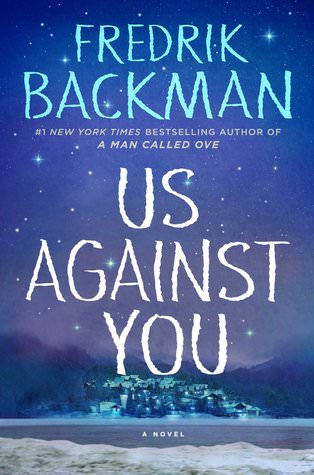 My rating for Us Against You – 4
Buy Us Against You from Amazon.com*
More Books by Fredrik Backman
Thoughts:
I really enjoyed the first novel in the series, aptly named Beartown, and was glad to be able to read Us Against You by Fredrik Backman which is a continuation of the story with the same familiar characters and a few new ones. This novel is written in the same style as the first novel, with very similar themes as well.
Even though the book might be uplifting at some points, it is a sad book dealing with everyday life and the struggles some people go through just to get through the day. The author does a good job, again, of capturing humanity, people at their best and worst. We are all shades of gray, not comic book villains or cape-wearing heroes.
The story, while sometimes dark and sad, is mostly on an upbeat note, as things seem to come together at some point. Many characters do the honorable things, criminals step up when needed and the town comes together.
The author constantly misdirects the reader to keep the story fresh. He has a style of teasing the ending at the beginning of each story, misdirecting the reader to think they are on the right track, and then changing course 90 degrees for a misleading, yet accurate fulfillment of the earlier prophecy.
This is an ambitious book with many themes, yet easy to read and reachable. The author clearly lays out the story and understanding of people and their nature for the reader to inspect.
Synopsis:
Peter Anderssen became persona-non-grata along with his family in Beartown since his daughter's rape. The small town was split in half between supporting the rape victim or her rapist, the star of the local hockey team. After their loss in the championship game, the town has one more chance to prop up the hockey team.
Peter's wife, Kira, sees this as her opportunity to open up a law firm. A corrupt politician capitalizes on the divided town to stir his way to the top. The rest of the town has to evaluate if hockey is really worth it or not.
Buy Us Against You from Amazon.com*
More Books by Fredrik Backman
Zohar — Man of la Book
Dis­claimer: I got this book for free.
*Ama­zon links point to an affil­i­ate account
--- Please like and follow ManOfLaBook.com ---