I go this book for free.
Article first published as Book Review: Three Seconds by Anders Roslund and Borge Hellström on Blogcritics.
February Partners has made available books for three (3) winners – enter below.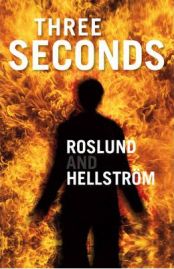 My rating for Three Seconds – 5
About:
"Three Seconds" by Anders Roslund and Borge Hellström (website | Facebook | Twitter) is a crime fiction novel focusing on the prison drug trade. The novel has won the prestigious Best Swedish Crime Novel of the Year in 2009.
Great book for those cold nights – Buy it here and buy it now!!!
Thoughts:
"Three Seconds" by Anders Roslund and Borge Hellström has many things going in one book. The novel is a bleak crime drama, a conspiracy story and a detective story.  The story is morally complex, visceral and the reading is demanding but well worth the effort.
There is no set-up to this book, the story gets running from the start, thick and fast at the reader assaulting with drama and authenticity.  The writing is refined, the characterization solid and the action brutal.  The book is written in short scenes, which takes some getting used to but once you do watch out…the pace of the book is electric.
Behind the compelling and sometimes complex storyline there is a real critique of the Swedish jail system, justice system. and the way the Swedish police use informants.  This exciting and innovative book is well plotted and goes into considerable  without actually losing the reader.  However, the subject matter does not make this a particular pleasant reading of this well researched and absorbing book.
Great job by translator Kari Dickson of keeping the pace and dialog flowing.
Synopsis:
Piet Hoffmann loves his wife and adores his two little boys, however his business takes him away from them often.  Piet is an informant for the Swedish police and has been working for years, off the books, to infiltrate an arm of the Polish mafia who is bent on taking over drug distributions in Sweden's jails.
After years of hard work, Piet finally gains the trust of a respected business man who knowingly fronts the Polish mob.  The deal that gained Piet legitimacy cost another undercover agent his life which forced Piet to collect evidence from the crime scene absolving himself.
Erik Wilson is Piet's handler, Erik falsified records to Piet's existing criminal history boost up his rap sheet to make Piet the legitimate heir to the jail drug underworld.  All this while they are preparing for the largest sting operation in Swedish law enforcement history.
Detective Superintendent Ewert Grens is investigating the murder in the drug-deal-gone-bad.  A grieving widower Ewert throws himself into his investigation only to hit peculiar road blocks at every turn.
And we didn't even get to the twists yet…
What twists? Find out for yourself – Buy the book here
Rules:

Contest is for one (1) new copies of the book

There will be THREE (3) WINNERS

Must be a US mailing Address (this is for the US release)

Ends Monday December 13, 2010
Winners will be chosen using Random.org

Winners will have 24 hours after my initial contact to write back their mailing address, otherwise alternate winners will be picked

Congratulations:
treerose@
amberhumphries@
karenpturner@
Zohar – Man of la Book
Related articles
--- Please like and follow ManOfLaBook.com ---