About:
Thomas Paine and the Promise of America by Harvey J. Kaye is a biography about the famous English-American political activist during the American revolution. Mr. Kaye is an American historian currently working as the the Director of the Center for History and Social Change at the University of Wisconsin.
336 pages
Publisher: Hill and Wang
Language: English
ISBN-10: 080908970X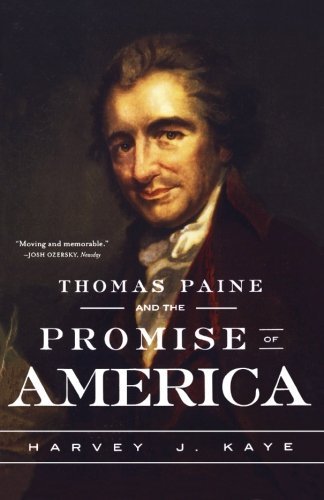 My rating for Searching for Thomas Paine and the Promise of America – 4
Buy Thomas Paine and the Promise of America from Amazon.com*
More Books by Harvey J. Kaye
Thoughts:
Thomas Paine and the Promise of America by Harvey J. Kaye is a biography, and assessment of the life of Mr. Paine, all in the context of the American Revolutionary War. The book also touches on how Mr. Paine's political philosophy changed our way of thinking, our country and even influences American politics to this day.
Thomas Paine's most famous work, Common Sense, a pamphlet written in 1775-1776 which advocates independence from Great Britain influenced many important people and an argument can be made that without it the revolution might not have happened. Paine's vision of democracy inspired many and frightened some, since his background as a working class individual spoke more to the masses than the aristocratic background of many of America's founding fathers.
Thomas Paine's work influenced many radicals during, and after, his lifetime. These radicals called for such extreme change such as ending slavery, women's equality, fair wages and so on. The book devotes almost half of it to the public perception and appreciation of Mr. Paine, sometimes decades and centuries after his death. As we all know at this point, Paine's "radical" views gained acceptance over the years and now became standard.
This is a well written, facilitating book about an influential political activist and philosopher. I found it fascinating that, despite being a best-selling author, Mr. Paine refused to profit from his political writings and donated his profits them to purchase mittens for General Richard Montgomery's troops.
Buy Thomas Paine and the Promise of America from Amazon.com*
More Books by Harvey J. Kaye
Zohar — Man of la Book
Dis­claimer: I borrowed this book from the local library
*Ama­zon links point to an affil­i­ate account
--- Please like and follow ManOfLaBook.com ---