About:
The Time Traveler's Wife by Audrey Niffenegger is a novel about a man with a genetic disorder which allows him to travel through time. While that might seem like an opportunity for fame and fortune, the man is traumatized by the experience and cannot control where or when he is going to travel.
546 pages
Publisher: Harcourt
Language: English
ISBN-10: 0224072374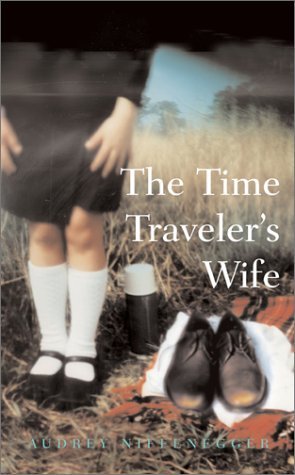 My rating for The Time Traveler's Wife – 4
Buy this book from Amazon.com
More Books by Audrey Niffenegger
Thoughts:
Imagine knowing your death date and not being able to do anything about it, for some it might be a blessing and for some a curse.
Imagine meeting your husband when you're six, only that he's 36, but in your "present" he's 14 and doesn't even know you exist.
The story is about Henry DeTamble is a time traveler, the next evolution of humans, only that he can't control where or when he's going – and he can't take anything with him and that includes clothes and even tooth fillings but he does return with the bruises and injuries he has incurred. Henry, more than often, has to rely on his criminal skills (such as pick pocketing, lock picking, etc.) and, in a Dickensian twist of circular fate, even teaches his young self those same skills.
On many of his trips Henry visits young Clare, his future wife, and accompanies her during her difficult teenage years until they meet in the present – where she knows the future, but he doesn't know their past.
Even though this book is classified as "science fiction", it is a far cry from imagined space adventures, alternate universes or fantastical adventures. The author has made time-traveling, its positives and negatives, part of the narrative and eventually the reader learns to accept this unique quality in Henry for what is, a blessing and a curse.
As are most things in life.
The main timeline is mostly told from Clare's perspective, and hence straightforward. The narrative itself is told in first-person from both Clare and Henry and sometimes from two Henrys as he meets himself in the past or future.
This book is a very unique love story, since it follows Clare & Henry's relationship their whole life, with a twist of course. Once I learned how to follow the story (you must pay close attention to the section headings which tell the dates and ages of the characters), I couldn't put this book down.
Even though the book has some flaws (mainly that there is a character introduced early on and then just "appears" again without a re-introduction) I still enjoyed it tremendously and do highly recommend it.
Buy this book from Amazon.com
More Books by Audrey Niffenegger
Zohar — Man of la Book
Dis­claimer: I bought this book.
*Ama­zon links point to an affil­i­ate account
--- Please like and follow ManOfLaBook.com ---