About :         
The Stowaway: A Young Man's Extraordinary Adventure to Antarctica by Laurie Gwen Shapiro is the story of an American boy, of Polish origins, who stowed away on a ship planning to join Admiral Robert Byrd's Antarctica expedition in the late 1920s. Ms. Shapiro is a talented writer and filmmaker.
256 pages
Publisher: Simon & Schuster
Language: English
ISBN-10: 1476753865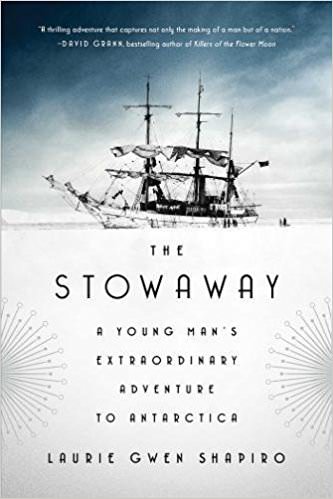 My rating for The Stowaway– 4
Buy The Stowaway from Amazon.com*
More Books by Laurie Gwen Shapiro
Thoughts:
The Stowaway: A Young Man's Extraordinary Adventure to Antarctica by Laurie Gwen Shapiro is a book right up my alley.  A story of adventure, guts, gumption set in an era where these things actually mattered.
An era where exploration of the Earth was still as exciting as exploration of space, when there was still an Earthly frontier still left to be conquered. Admiral Richard Byrd caught the imagination of Americans everywhere by deciding to go and explore Antarctica, including that of 17 year old Billy Gawronski of New York. Desperate to get on Byrd's crew, Gawronski stowed away on one of Byrd's ships, and somehow manages to get on the crew for the expedition.
This is a non-fiction book that reads as fiction. The teenager with guts (and a mouth), his supportive friends and less supportive family that eventually comes around. The author gives a background of 1920s society and culture, what it was like living in New York and being son of immigrants.
The expedition is just the beginning of the story, and of course a key milestone to the life of a young man. Ms. Shapiro keeps on going, telling us how Billy grew up, became a man, a lifelong adventurer who somehow managed to keep a wife as well.
From some reason this book took me awhile to read, twice as long as I thought it would actually. It was packed with information and some parts I had to re-read. I also got an e-galley, so no pictures were included, even though I understood from the context that the finished copy would have them. That is my loss since I feel pictures would have enhanced the book even more.
A story of adventure and a fascinating tale brought to life by a talented writer.
Zohar — Man of la Book
Dis­claimer: I got this book for free.
*Ama­zon links point to an affil­i­ate account
--- Please like and follow ManOfLaBook.com ---