About:
The Shamless by Ace Atkins is the 9th novel in featuring Sheriff Quinn Colson, a former Army Ranger who has came back home to Tibbehah County, Mississippi and was elected sheriff. The Ranger series is quickly becoming one of my favorites.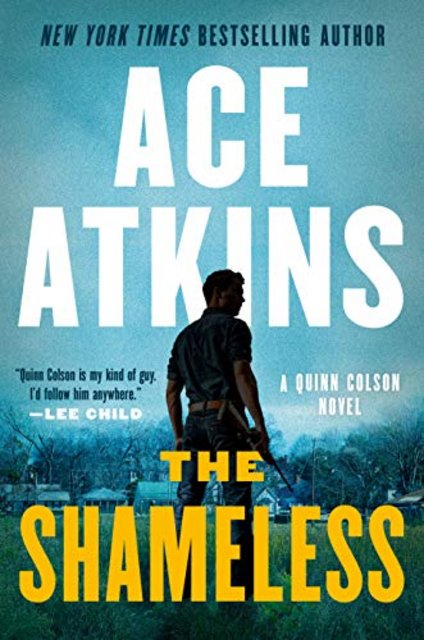 My rat­ing for The Shamless — 5
Buy The Shamless from Amazon.com*
More Books by Ace Atkins
Thoughts:
The Quinn Colson series has become one of my favorite series to read. While it started out in a simple manner, a war hero returning home to clean up the town, the novels have become more complex and the characters more interesting.
The Shamless by Ace Atkins is an excellent addition to the series which might have the sheriff's name on the cover, but is actually a story about the County itself. Mr. Atkins write of Tibbehah County, Mississippi as if it a microcosm of America itself, with all the character which it exhibits to the world, good and bad. One can take a good look at the County and self-reflect
The series is not a fantasy about a good guy with a gun solving each and every problem by brandishing it out and threatening lesser men. I have started to read books like that and they were so dumb I couldn't finish. Quinn Colson has profound respect for the law, but in no way does he shoot first and ask questions later. Sheriff Colson often gets into a jam for not shooting fast enough and when he does there is hell to pay because he's not very popular with Tibbehah County's powerful citizens who seem him as a threat to their fiefdoms.
In this book, to investigative reports who have a podcast offer a different view from the one seen by the regular cast. The journalist (which the author used to be) certainly adds a valuable, interesting, and fun, commentary to the narrative.
This book ends with a cliffhanger, unlike the others in the series. The Ranger novels do touch one another with side threads that tie up the series, but this seem to me like a larger story and I'm already excited thinking about the next book.
Synopsis:
Brandon Taylor walked in the Big Woods in Tibbehah County and never walked out. Twenty years later sheriff Quinn Colson has reopened the case when Brandon's bones are found. An old case in a county where everyone know one another, and dark secrets are kept buried deep is a difficult case especially when people know just enough to point fingers and do damage.
Quinn's uncle, the previous sheriff, has closed the case saying Brandon committed suicide, but a string of letters recently written to Quinn's wife might be the thing Quinn needs to break the case.
Buy The Shamless from Amazon.com*
More Books by Ace Atkins
Zohar — Man of la Book
Dis­claimer: I got this book for free.
*Ama­zon links point to an affil­i­ate account
--- Please like and follow ManOfLaBook.com ---
Summary
Reviewer
Review Date
Reviewed Item
The Shamless by Ace Atkins
Author Rating





Product Name
The Shamless by Ace Atkins