About:
The Seven Wonders: A Novel of the Ancient World by Steven Saylor is a collection of short stories starring the youthful, wise cracking Gordianus.  Currently there is a popular series of mysteries written by Mr. Saylor and starring an older Gordianus.
The pub­lisher is giv­ing away one copy to 2 (two) win­ners – enter using the Raf­fle­copter form at the end of this post.
336 pages
Publisher: Minotaur Books
Language: English
ISBN-10: 0312359845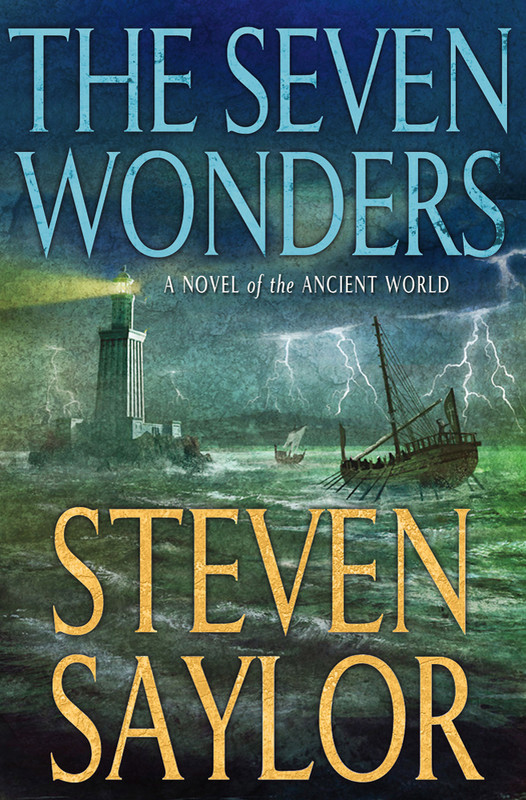 My rating for The Seven Wonders – 4
Buy this book in paper or electronic format*
More books by Seven Saylor*
Thoughts:
I enjoyed Saylor's (web­site | Face­book),previous books (although admittedly I didn't read many) and was thrilled to be offered to read The Seven Wonders. The short stories are a great introduction to Gordianus and actually have a running theme throughout them besides a travelogue.
I am a true believer that travel opens the mind, it lets you see for yourself that there are other ways to live your life besides what you believe is the right way. Actually, traveling shows you that there is no right way, a dirt farmer in middle America might just be as happy and content with his life as a merchant in Venice. Experiencing other cultures also, I believe, defuses racism and forms tolerance and acceptance into one's mind. In many countries, traveling after high school or college or military service is a rite of passage and I think those people are all the better for it.
Current fans of Gordanius will enjoy this book because the real story is the evolution of a loved character. Part mystery, a travel journal, a sexual awaking tale (as a healthy 18 year old, Gordanius discovers the pleasures of the body at each Wonder, if memory serves me correctly) and part a coming of age story. Gordanius becomes the detective that he is in the later novels, party by sharpening his powers of deduction while being a stranger in a strange land, grappling with unknown cultures and languages.  A nice touch, in my opinion, was Gordanius' realization that Rome just might not be the center of the world and/or universe. A truth he has heard and believed since birth.
The research in this book, as in other books by Mr. Saylor is incredible. The descriptions of the Wonders, cities and alleyways are descriptive and vivid. The locations come alive as if they were another character in the book and, even more impressive, without stopping the story in its tracks.
The book is actually a prequel to the author's mystery series starring the protagonist.  However, it is not necessary to read the previous, or any, books in the series to enjoy this one. Gordianus himself is the narrator of all the short stories in the book, he is reflecting on his youth in a way which many of us do. Sometimes you look at what you done, slap your head and proclaim: "what the hell was I thinking"; yet sometimes you look back and enjoy the ride.
When I first got this book I was fairly excited, reading some Mr. Saylor's previous books I knew what I was in for, however my excitement deteriorated when I discovered that this was a collection of short stories.  To my delight, I truly enjoyed The Seven Wonders and believe that it is a wonderful introduction to Gordianus for new, as well as current, fans.
So tell me, do you like prequels?
Related Reads:
Roma by Steven Saylor
Synopsis:
As the name of the book might suggests, the reader follows Gordianus along with his companion and teacher, the world famous Antipater. This famous Greek poet faked his own death to travel in privacy with his student to see the Seven Wonders of the ancient world. The couple solves a mystery at each site, which at the end, everything ties in together to lay out before the reader a grander story.
Buy this book in paper or electronic format*
More books by Seven Saylor*
Give­away
Give­away ends: July 23, 2012 (accidentally, one of the most holiest days of the year)


US/Canada Ship­ping Addresses Only

No PO Boxes

Win­ners will have 24 hours to write back with their address, oth­er­wise an alter­nate win­ner will be picked
Congratulations:jtretin@,[Name as email]@
Zohar – Man of la Book
Disclaimer:I got this book for free
--- Please like and follow ManOfLaBook.com ---
Summary
Reviewer
Review Date
Reviewed Item
The Seven Wonders by Steven Saylor
Author Rating





Product Name
The Seven Wonders by Steven Saylor