About:
The Metamorphosis by Franz Kafka is one of the author's most famous novellas. The work was published after his death.
76 pages
Publisher: Tribeca Books
Language: English
ISBN-10: 1936594005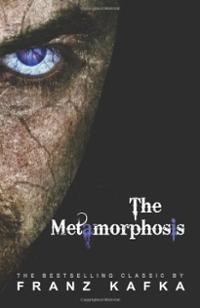 My rat­ing for The Metamorphosis — 5

Buy this book in paper or elec­tronic format*
Thoughts:
The Metamorphosis by Franz Kafka is a dark and disturbing tale. The story captured me from the first line "One morning, as Gregor Samsa was waking up from anxious dreams, he discovered that in his bed he had been changed into a monstrous verminous bug". We know nothing about Gregor, who are what he is, and this strange opening simply breeds curiosity.
The story is relevant even today, which is why I believe this simple tale became a classic. The feeling of helplessness, escaping things which are difficult and /or beyond our control and make our humdrum lives easy and simple.
It is difficult to face the truth, and why would you want to unless you absolutely had to do so?
Kafka's world (in this case a room) is dark and foreboding, with situations beyond anyone's control. The individual battles against the powers-that-be (be they government, Kismet, G-d or just chance) is lost from the beginning and even if you'd won – it still wouldn't make a difference.
I found the relationship of the protagonist and his family to be the most fascinating. In a short time he goes from being the humble breadwinner to a persona-non-grata. Even though his family looks down on him, Gregor still works at a job he doesn't like simply because others are more important to him then himself. Gregor doesn't have a "life", simply goes to work, hands over his money to help his debt ridden family and thinks that this is the way things are.
Gregor seems to be the person everyone kicks around, his family is lazy, at his work he is humiliated and even though never missing a day of work he constantly feels as if he'll get fired and now he is turned to a bug.
I did not expect this short story to be so deep, there are many themes condescend in a short space and between the lines. I would highly recommend this novella to anyone who likes to think into the deeper meaning of what is not written rather than a straight out narrative.
Synopsis:
This is the story of Gregor Samsa who wakes up one morning and discovered he has turned into a giant bug. Gregor is worried because he overslept and missed his train for work. The metamorphosis is a metaphor for an illness a person is inflicted with which is outside their control.
Gregor is the sole breadwinner for his family and their reactions to his radical transformation are what makes the book both sad and disconcerting. Gregor's family goes through grief, endurance, repugnance and sad of all, blaming Gregor himself and detesting what he has become.
Zohar — Man of la Book
Dis­claimer: I got this book for free.
*Ama­zon links point to an affil­i­ate account
--- Please like and follow ManOfLaBook.com ---