About:
The Leonardo Gulag by Kevin Doherty is a novel which tells of a young Russian artist, who has been arrested by the Stalin regime and put in a gulag, forced to create art forgeries. Mr. Koherty is an established author from England.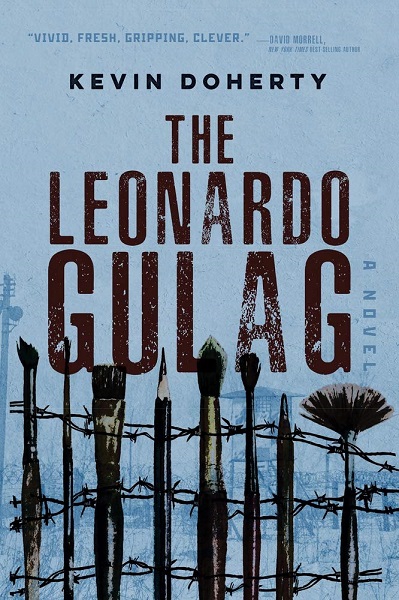 My rating for The Leonardo Gulag – 4
Buy The Leonardo Gulag from Amazon.com*
More Books by Kevin Doherty*
Thoughts:
I have read several books on Leonard de Vinci, and when I read the description it sounded interesting, and a different take. The Leonardo Gulag by Kevin Doherty did not disappoint, even though it was not what I was expecting.
Leonardo himself, or his art, is a subplot do not really play any part in the story except moving it forward, and providing some background for the narrative. That being said, this is not a book about art, but about artist and I knew that going in.
Half the book takes places in a Russian gulag during the reign of Stalin. The author manages to capture the sense of isolation, danger, loneliness, and impending doom the protagonist, Pasha kalmenov, feels during that part of the story.
The latter part of the book takes Pasha and makes him a foreigner in his own home. There are many books, fiction and non-fiction alike, which deal with this subject and it is always sad story. Sometimes the characters come out on top, but mostly those are stories which deal with the inner elements of one's personality and the ability, or inability, to deal with such stark change.
The author captured the feeling of being a foreigner in a place which you intimately know very well. It is a feeling many of us get after visiting our childhood home town, after many years of absence. Things are the same, but not really. A street might look familiar, but it is strangely changed from how you remember it (could be smaller, wider, different stores).
The author weaves many historical figures and events into the story, all happening in the background. From Anthony Blunt's spying, to Stalin's cruel reign, or the gulag's horrific conditions, one gets the feeling of moving through history through a fictional narrative.
Most of all, this is a story of survival by a least likely candidate. Pasha has lots of help, and lots of luck, but he is determined to make it through.
Synopsis:
In 1950s Russia, a young artist named Pasha kalmenov has been arrested for unknown reasons, and sent to a gulag in the Arctic. Once there, Pasha discovers that he is part of small group of artists forced to make forgeries of drawings originally created by the famed Leonardo de Vinci.
The artists have no idea why they are doing this work, and for whom. It is soon discovered that the artists whose forgeries are not up to par are being executed, only Pasha's talent can extend his life.
Buy The Leonardo Gulag from Amazon.com*
More Books by Kevin Doherty*
Zohar — Man of la Book
Dis­claimer: I got this book for free.
*Ama­zon links point to an affil­i­ate account
--- Please like and follow ManOfLaBook.com ---