About:
"The Jersey Sting: A True Story of Corrupt Pols, Money-Laundering Rabbis, Black Market Kidneys, and the Informant Who Brought It All Down" By Ted Sherman and Josh Margolin (Twitter | Facebook)  is the true story of the events leading up to the arrest of 44 people in New Jersey. These 44 were corrupt local politicians, Rabbis, money launderers and, strangest of all, a black market kidney dealer.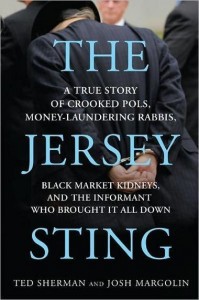 My rating for The Jersey Sting – 5
Pur­chase The Jersey Sting From Amazon.com*
More Books by Ted Sherman*
More Books by Josh Margolin*
Thoughts:
On the holiest day of the year, July 23, 2009 the FBI culminated a three year investigation by arresting 44 people for various charges including money laundering and taking bribes. All of these people were taken down by one informant, a rabbi's son named Solomon Dwek.
"The Jersey Sting" By Ted Sherman and Josh Margolin is a fantastic book. If I didn't follow these arrests live as they were happening I wouldn't have believed this could actually be true. The whole book reads like a fictional story from a deranged mind.
1) Several months ago I got hit with a $15 bank fee because a check I deposited valued at 35 cents bounced (I fought hard and got the $15 back). Solomon Dwek cashed a $25 million check…from a closed company…using the drive through.
Then he wrote another $25 million check. That's $50 million in bank fraud.
Facing 30 years in prison Dwek helped the FBI capture the 44 villains.
2) What kind of stupid politicians do we have in New Jersey (Part 1)?
When you are holding political office and someone hands you an envelope with cash you…take it?
Not to mention that bribes are LEGAL in NJ – there are laws on the books on how to accept bribes properly (they are called "pay to play laws").
3) What kind of stupid politicians do we have in New Jersey (Part 2)?
Dwek's picture was on the front page of every newspaper of New Jersey for a long time. Yet, when he offered them a bribe they didn't think twice about it.
And he used his real name!
4) What kind of stupid politicians do we have in New Jersey (Part 3)?
Half of these people Dwek introduced himself as fictional builder. Only one actually googled the name and figured out that something is rotten in the state of Jersey. The rest…just took the money.
5) There are "bag men" in New Jersey whose whole reason for living is to introduce crooked politicians to potential bribers and get a cut for the introduction and another cut if a deal actually goes through.
And here I am, like a sucker, working eight hour days.
6) The FBI and federal prosecutor did not involve the New Jersey's attorney general in the case because as an appointed position NJ's attorney general is in the business of protecting scumbag politicians instead of prosecuting them. But you have to read The Soprano State (book review) in order to find out how.
This complex tale is told in a meticulous fashion, with a sense of humor but with a serious twist. I enjoyed this book tremendously, even though it might not be a light read for some. The authors also included a cast of characters at the end which will help the those who are just getting their introduction to New Jersey's "culture of corruption".
Ted Sherman and Josh Margolin are two reporters who worked at the time for The Star Ledger in Newark, NJ. The two authors covered this story with the The Star-Ledger staff and were awarded the Jesse Laventhol Prize for Deadline News Reporting from the American Society of Newspaper Editors, as well as honored as finalists for the Pulitzer Prize.
The sting was authorized by then federal prosecutor Chris Christie, now the governor of New Jersey. Christie left several months before the sting ended, however despite nasty elections rumors, Christie's campaign was never considered to be part of the equation when the date of the take-down was set.
Now if you'll excuse me, I have to go write get my tax bill (highest in these United States) of which 50% is known to be "corruption tax".
Synopsis:
The book centers on Solomon Dwek, the son of a rabbi, born and bread in Deal, NJ. Dwek made his fortune as an unlicensed real estate broker and got caught up in a ponzi scheme until he finally had to commit bank fraud.
Becoming and FBI informant, wearing a camera and voice recorder, Dwek helped the FBI capture corrupt politicians, some seasoned and some only days in office. However, Dwek's ties run deep and he brings even more then corrupt politicians to the FBI's door.
Pur­chase The Jersey Sting From Amazon.com*
More Books by Ted Sherman*
More Books by Josh Margolin*
Zohar — Man of la Book
Dis­claimer: I bought this book
*Ama­zon links point to an affil­i­ate account, the money is usually spent on book
Related articles
BOOK BLOGGERS – Have you read "The Jersey Sting"? If so link up your review below
--- Please like and follow ManOfLaBook.com ---
Summary
Reviewer
Review Date
Reviewed Item
The Jersey Sting: A True Story of Corrupt Pols, Money-Laundering Rabbis, Black Market Kidneys, and the Informant Who Brought It All Down By Ted Sherman and Josh Margolin
Author Rating





Product Name
The Jersey Sting: A True Story of Corrupt Pols, Money-Laundering Rabbis, Black Market Kidneys, and the Informant Who Brought It All Down By Ted Sherman and Josh Margolin