About:
The Gunslinger by Stephen King is the first novel in the Dark Tower series. The novel brings together five short stories which were originally published between 1978 and 1981.
336 pages
Publisher: Signet
Language: English
ISBN-10: 0451210840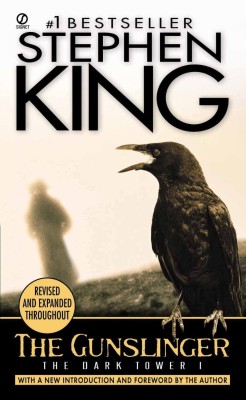 My rat­ing for The Gunslinger — 3
Buy this book in paper or elec­tor­nic format*
Thoughts:
I'm not much of a reader of fantasy, I tried (and failed) repeatedly to read Lord of the Rings and got 150 pages into A Game of Thrones before putting it down (love the show and movies though). I've heard much about the Dark Tower series from many people and when I looked into it, the storyline sounded like something I'd be interested in.
The Gunslinger by Stephen King is not long, but it took me awhile to get through due to the "fantasy language" authors love to make up. To be honest, that's one of the reasons I don't enjoy many of these novels, my analytical brain is simply not designed for such reading.
Mr. King does write an excellent scene and creates a very dramatic world, but the cost was the storyline, which I thought wasn't very substantial. The story feels more as an homage to Westerns (my favorite genre in films) and the magical world of Camelot. The novel does a great job at it, using the same technology and socioeconomic themes, but what makes a good movie does not necessarily makes a good book.
I did enjoy the hero, Roland, who is well written, charismatic and mysterious at the same time. What's lacking in Roland's life seems to be antagonists, he has no real competition in the realm except the main villain which even the reader has no clue who, or what, he is. I still have no idea why this god-like creature is not facing Roland head on. As well as Roland is written, every woman in this book is written poorly. All the women let their sexual cravings guide their lives and decisions.
I might read the second book in the series, as it supposed to get much better. I was hoping to jump right into it but I'm going to have to give the series a bit of a break.
Synopsis:
Roland Deschain is the last of an order known as gunslingers traveling through a world which has magical aspects and traces of an advanced society. Roland is on a quest to find the Dark Tower, said to be the nexus of all universes.
Along the way, Roland meets Jake Chambers, who died in a different universe. Jake join Roland on his quest to find the tower and meet the man in black.
Buy this book in paper or elec­tor­nic format*
Zohar — Man of la Book
Dis­claimer: I borrowed this book.
*Ama­zon links point to an affil­i­ate account
--- Please like and follow ManOfLaBook.com ---