About:       
The Great Rift: Dick Cheney, Colin Powell, and the Broken Friendship That Defined an Era by James Mann tells about the careers of the two men and how they constantly intertwine since the 1970s. Mr. Mann wrote several books about politics and national security issues.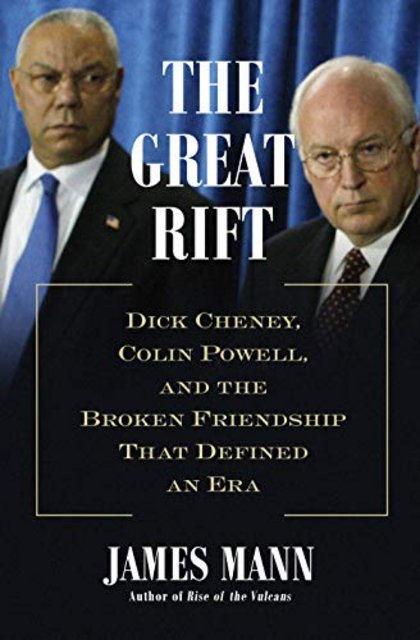 My rat­ing for The Great Rift— 4
Buy The Great Rift from Amazon.com*
More Books by James Mann*
Thoughts:
I always admired Colin Powell, and had a healthy respect of Dick Cheney, but I never had any idea that the two worked closely together for decades, or that they were great friends. The Great Rift: Dick Cheney, Colin Powell, and the Broken Friendship That Defined an Era by James Mann tries to analyze this friendly, cordial, yet complex relationship between the two powerful men.
The book follows 4 decades of public service, from Mr.  Powel's service in the Vietnam War and Mr. Cheney's entrance to government, to the administration of George W. Bush (43). The two men became great friends, but fell apart in later years.
While Cheney's career was made in the halls of power in Washington, Powell witnessed the Army's actions in Vietnam and the sting of it. Cheney was always remote, but Powell's personal warmth helped him immensely. The two men, however, both possess great bureaucratic prowess, and a talent to find powerful mentors who pushed them, and gave them the tools to succeed.
Serving together under President George H. W. Bush (41), the two men saw eye to eye. Mr. Cheney was the Secretary of Defense, while Powell was Head of the Joint Chiefs of Staff. The two orchestrated a textbook implementation of the Powell Doctrine (a clear objective, overwhelming force, and political backing) of the war.
The narrative tells of how the two man fell apart during the presidency of George W. Bush (43) and his 2003 push to invade Iraq. It was depressing to read how a great man like Collin Powell was unable to muster political courage and moral valor which were necessary to counteract Dick Cheney's plans. While reading this part I could only wonder what would have happened if Powell resigned in protest during those times, even though hindsight is 20/20 and I'm sure Mr. Powell felt he needed to be next to the inexperienced President instead of simply leaving.
To this day I remember Mr. Powell's speech to the UN, I was watching it with my father, both of us had tremendous respect for him. At end, my father turned to me and said: "even he doesn't believe it".
I remember during the 2000 election, those who decided to vote for Bush said it was because of "the team he's putting together". Many people thought that if Bush (43) would make a mistake, a bunch of seasoned professionals would be there to step in and save the day. Colin Powell was viewed as the leader of that group, but as the book points out this was not to be the case.
Buy The Great Rift from Amazon.com*
More Books by James Mann*
Zohar — Man of la Book
Dis­claimer: I got this book for free
*Ama­zon links point to an affil­i­ate account
--- Please like and follow ManOfLaBook.com ---
Summary
Reviewer
Review Date
Reviewed Item
The Great Rift: Dick Cheney, Colin Powell, and the Broken Friendship That Defined an Era by James Mann
Author Rating





Product Name
The Great Rift: Dick Cheney, Colin Powell, and the Broken Friendship That Defined an Era by James Mann