About:
The Girl Who Escaped from Auschwitz by Ellie Midwood is a historical fiction book recounting the life of Malka "Mala" Zimetbaum and Edvard "Edek" Galiński who escaped from the Auschwitz-Birkenau concentration camp.  Ms. Midwood is a best-selling, award-winning historical fiction author.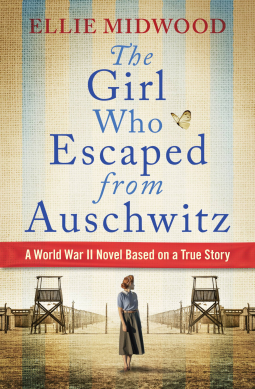 My rating for The Girl Who Escaped from Auschwitz – 5
Buy The Girl Who Escaped from Auschwitz from Amazon.com*
More Books by Ellie Midwood*
Thoughts:
A particularly tragic story based on true events, memoirs, and lots of research. For me, it was interesting to read about the experience of two prisoners who were not explicitly marked for death since their arrival in Auschwitz. The author goes on to describe the horrible conditions as witnessed by privileged prisoners, the administrative office, or the political prisoner. Prisoners that altogether had access to a large portion of Auschwitz.
Mala was saved thanks to her fluency in five languages (Dutch, French, German, and Polish; other sources say she also knew English and/or Italian), she served as a runner and translator for the SS. Soon Mala became a legend at the camp, a person who was not corrupted by the harsh reality and did all she can to help other prisoners, risking her life often. We know this through collective stories of survivors. Standing up to evil, even as she faced certain death, elevated Mala from a local legend to a heroine for the ages.
I saw some other reviewers complain about the author's soapbox speech about abortion rights. Regardless of my personal opinion, I agree that this very short section had no place in the book. Abortions in Auschwitz were a necessity. Getting impregnated was a guaranteed date with the hangman, there was no religious aspect to it – just a matter of survival.
The Girl Who Escaped from Auschwitz by Ellie Midwood certainly is an engrossing book, shining a light on brave heroes we should never forget. Even though it's historical fiction, Mala's bravery, as well as chutzpah in the face of pure evil shine through.
I hope I have half her courage.
Synopsis:
Inmate 19880, Mala is a bright young Jewish woman deep in the hell of Auschwitz. Due to her intellect and ability to speak several languages, Mala is put in a privileged secretarial position which she uses to help others and save many lives.
Inmate 531, Edek is a Polish political prisoner who is a member of the underground resistance, planning an escape. When Edek and Malka meet, they are convinced that their combined privilege, courage, and imagination will allow them to escape.
Buy The Girl Who Escaped from Auschwitz from Amazon.com*
More Books by Ellie Midwood*
Zohar — Man of la Book
Dis­claimer: I bought this book
*Ama­zon links point to an affil­i­ate account, the money is usually spent on books
--- Please like and follow ManOfLaBook.com ---
Summary
Reviewer
The Girl Who Escaped from Auschwitz by Ellie Midwood
Review Date
Author Rating