About:
The Call of the Wild by Jack London is a classic short story written in 1903. Originally no one wanted to publish the book, however, Macmillan agreed to take a chance on the unknown writer and payed him $2,000 with no royalties.  Even though the publishers and editors didn't like the title London stuck with it. Seven years later an editor wrote:
 "I'll be damned if that very muchly-rejected title didn't become a phrase in the English language. This is only one of many experiences concerning titles, wherein editors, booksellers, and publishers absolutely missed."
64 pages
Publisher: Dover Publications; Dover Thrift Edition
Language: English
ISBN-10: 0486264726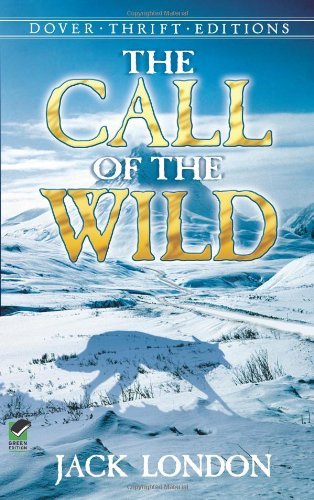 Buy this book in paper or electronic format*
Thoughts:
I purposely avoided The Call of the Wild by Jack London as a teenager, the novel simply didn't appeal to me. I'm glad I avoided it because upon reading this classic story as an adult, I believe I would have hated it as a teen.
There is some violence and cruelty in the book, but I believe the language is what would have done me in. Not to knock down any teenage bibliophiles, but I believe that the vocabulary would have been a bit too much for me to handle at the time. I believe that as an adult I appreciated the book a lot more than if I was forced to read it as a teen. There are themes in there which I know I would not have picked up or even thought about at my younger, handsome, selfish days.
I enjoyed the character of Buck, the dog whose adventures the story follows. Buck's good and bad sides come out in the story and throughout the narrative, both help him survive. Mr. London wrote a great story about the nature of man in tough times. How our masks of civility will be shed in seconds and we will fall back on our basic instincts to survive when we are in danger.
When it comes to nature vs. nurture – nature will win most of the time.
Buck's best and worst qualities come out during the challenges he faces, that could be said for any human. After all, don't we see the best and worst of people during times of tremendous sadness and stress?
While I'm not a fan of fiction about animals (heck, I don't even like the movies), I enjoyed this novel very much. I'm glad that I finally got around to read it, even though it was out of my comfort zone, and would certainly recommend it to others.
Synopsis:
Buck, a big St. Bernard-Scotch Collie, lives in Santa Clara Valley, CA as a house pet of Judge Miller. The gardner's assistant steals Buck to pay off his gambling debts. Buck is then shipped to Seattle and beaten.
Buck is sold to a dog sled team, and then sold again until he meets a man named John Thornton who recognizes what a remarkable creature he is.
Buy this book in paper or electronic format*
Zohar — Man of la Book
Dis­claimer: I got this book for free
*Ama­zon links point to an affil­i­ate account
--- Please like and follow ManOfLaBook.com ---