About:
The Alligator Man by James Sheehan is a legal novel which introduces the readers to a new character, Kevin Wylie. While some of Mr. Sheehan's recurring characters (The Lawyer's Lawyer) make an appearance, this is a standalone novel.
400 pages
Publisher: Center Street
Language: English
ISBN-10: 1455508640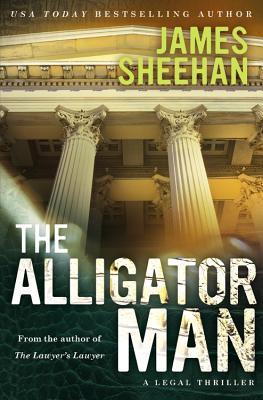 My rating for The Alligator Man – 4
Buy this book in paper or electronic format*
Thoughts:
The Alligator Man by James Sheehan starts out slowly but ends up as a fast paced story which combines two story lines. As usual the author does a wonderful job writing about courtroom drama, as well as excellent descriptions of the Florida vista. The other storyline concerns the protagonist's relationship with his father and touches on forgiveness, redemption and some romance thrown in to boot.
The characters in the novel are developed enough for the reader to care about and the author moves the story in a descent pace. Once the introduction to the characters is done and the story starts the book becomes very appealing and in the true style of Mr. Sheehan, the courtroom trial is dramatic and engaging.
The novel is an entertaining read, a good mystery with a surprise ending. A fun read for those who are fans of Mr. Sheehan or simply in the mood for a wonderful legal thriller.
Synopsis:
Lawyer Kevin Wylie works for a shady boss who knowingly protects criminals under the thinly veiled disguise of being their lawyer. When he finds out that his estranged father is dying, Kevin decides to try and renew his relationship and leaves.
During his visit Kevin reconnects with his past and helps a family friend, Billy, who is charged with murder of a corporate tycoon who destroyed the lives of thousands of people (think Enron).
Zohar — Man of la Book
Dis­claimer: I got this book for free.
*Ama­zon links point to an affil­i­ate account
--- Please like and follow ManOfLaBook.com ---