About:
The Alchemist: A Fable About Following Your Dream by Paulo Coelho is a novella which has come to much prominence in recent years. The book was published in 1995 but is still widely read to this day.
176 pages
Publisher: HarperSanFrancisco
Language: English
ISBN-10: 0062502182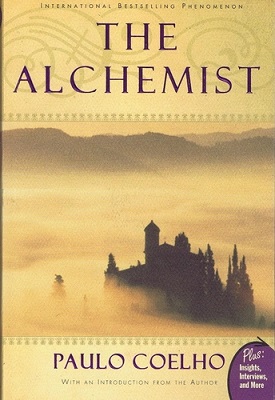 My rating for The Alchemist – 3
Buy this book in paper or elec­tronic (Kin­dle) format*
Thoughts:
I've had The Alchemist: A Fable About Following Your Dream by Paulo Coelho for a few years before I got to reading it, as several books I  have. I heard a lot about it throughout the blogosphere and finally decided to just sit down and read it.
I did not know what to expect, I knew it wouldn't be a magnificent piece of literature, but I have heard many positive reviews and several bad ones. After reading a few pages I knew that this novel certainly doesn't belong in the pantheon of great literature, the sentences were choppy and the subject seemed to be as if it's gearing up for a preachy ending.
That being said, the author is upfront about the messages he is trying to send and doesn't bury them deep in mambo-jumbo, but tells the reader flat out what they are. I can certainly understand why some people really liked and philosophized about the content. While the messages and overly simplification of them are not my cup of tea, they certainly are worth considering. At some points I even found the straightforwardness of the storytelling appealing, the themes were timeless and relevant to most people.
The author was trying to write a romantic fairy-tale, and I believe he succeeded. As in most fairy-tales, what you get out of them, and the messages and lessons you decide to extract is up to you.
Synopsis:
Santiago is a Spanish boy, a simple shepard who decided to follow his dream to find a treasure buried by the pyramids in Egypt. on his travels from Spain, Stantiago meets a cast of characters who help him on his quest. The gypsy woman, the king and yes, the Alchemist, help transform Santiago's trip from a materialistic quest to a spiritual journey.
Buy this book in paper or elec­tronic (Kin­dle) format*
Zohar — Man of la Book
Dis­claimer: I bought this book.
*Ama­zon links point to an affil­i­ate account
--- Please like and follow ManOfLaBook.com ---