About
Tarzan and the Jewels of Opar by Edgar Rice Burroughs is the fifth book the author written about Tarzan. As many other Tarzan stories it first appeared in a magazine and only later published as a book.
130 pages
Publisher: CreateSpace Independent Publishing Platform
Language: English
ISBN-10: 148193399X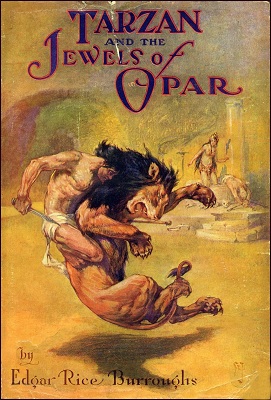 My rating for Tarzan and the Jewels of Opar – 3
Buy this book in paper or in elec­tronic format*
More Books by by Edgar Rice Burroughs
Thoughts:
I did not care for Tarzan and the Jewels of Opar by Edgar Rice Burroughs as I did the other Tarzan books. The premise is that Tarzan, needing cash, goes to the lost city of Opar in Africa to basically steal some.
The book follows the usual Burroughs formula, following twists and various plots with an active voice. The reader has to pay somewhat careful attention to the storyline otherwise they might get lost and lose track of who kidnapped whom, or who was captured by whom.
The one character which does get developed in this story is Jane. Burroughs shows that Jane is not just a damsel in distress awaiting her Jungle Lord to come rescue her, but a resourceful, brave woman.
I still thought it was a descent, fast paced read with good writing and very entertaining.  The adventures seemed to be nonstop even though the storyline is similar to the novels before it.
Synopsis:
In The Son of Tarzan, the King of the Jungle discovered Opar, a legendary lost city which is the source of gold. Needing finances, Tarzan returns to enrich himself from their stockpiles. But Tarzan isn't the only greedy human in the jungle, Albert Werper, a Belgian army officer is also there, secretly following Tarzan.
After being struck in the head with a rock, Tarzan loses his memory and also manages to anger the beautiful high priestess o f Opar, La, when he rejects her advances (as any healthy man would do when meeting a beautiful woman). La has fallen in love with Tarzan, unbeknown to him, the last time they met but this time she tries to kill him, however Tarzan escapes.
The amnesiac Tarzan escapes from Opar with Werper, all the while Jane has been kidnapped and is wandering why her husband isn't coming to her rescue.
Buy this book in paper or in elec­tronic format*
More Books by by Edgar Rice Burroughs
Zohar — Man of la Book
Dis­claimer: I got this book for free.
*Ama­zon links point to an affil­i­ate account
--- Please like and follow ManOfLaBook.com ---