About:
"The Stairway to Heaven" by Therese Zrihen-Dvir is a short fictional story which takes place in Israel. The book is told from the view point of two women after they had witnessed a horrific act of terror.
Attention Book Bloggers: After this review was published I got several nasty and personally insulting emails & comments on LibraryThing (as well as the comments below).  I do not want to engage in this type of mud slugging hence I will not publish the emails; However, just be aware of this if you decide to read any books by this author.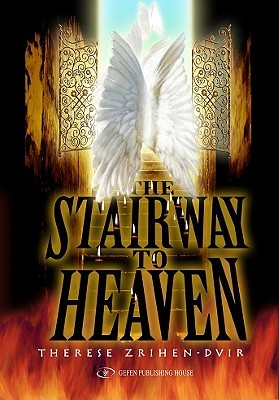 My rating for Stairway to Heaven – 2
Buy Stairway to Heaven from Amazon.com*
Thoughts:
I was excited to receive "The Stairway to Heaven" by Therese Zrihen-Dvir as I have been in the Beit Lid bus station more times than I could count and the double suicide bombing really hit home with me.
The story revolves around the Beit Lid massacre which happened on Sunday January 22, 1995. Sunday morning is when many Israeli soldiers return to their bases and the Beit Lid junction is usually swarming with soldiers waiting for a bus. At 09:30 AM, a terrorist dressed as a solider feigned illness and when he was surrounded by people trying to help he detonated himself. About 20 minutes later another suicide bomber ran to the area which has began assisting the wounded and exploded himself as well.
Twenty two soldiers died and 69 others were wounded.
However, I could not get into this book. While the story was somewhat interesting, the characters were not flushed out and I was unable to relate to any of them. The dialog was also forced which made the story difficult to read, especially due to the seriousness of the subject matter.
"We are men," the blond soldier replied, "and it is not only age that makes a man, it is how responsible he feels for his country, his duty, and faith."
I know many Israelis and none of them – not one – speaks like this or as any of the characters in the book.
The author uses the book to express her feelings about the Israeli-Palestinian conflict through her characters but the book is so one sided that it almost borders on Israeli propaganda.
I would love to read a non-fiction account of the Beit Lid massacre but this one simply didn't do it for me.
Synopsis:
The book follows two woman, Naomi and her mother, after the aftermath of the double suicide bombing in Beit Lid bus station. The two try to understand why there is no peace between the Israelis and Palestinians and the daily threats of violence.
Buy Stairway to Heaven from Amazon.com*
Zohar — Man of la Book
Dis­claimer: I got this book for free
*Ama­zon links point to an affil­i­ate account
Related articles
This post is in the 66th

Published at Book Reviews by Rick Sincere.
BOOK BLOGGERS – Have you read "The Stairway to Heaven"? If so link up your review below
--- Please like and follow ManOfLaBook.com ---
Summary
Reviewer
Review Date
Reviewed Item
The Stairway to Heaven by Therese Zrihen-Dvir
Author Rating





Product Name
The Stairway to Heaven by Therese Zrihen-Dvir