About:
Schoolhouse Burning: Public Education and the Assault on American Democracy by Derek W. Black takes a look on the assault on public schools through an analysis of what that means to our democracy from a moral and legal perspective. Mr. Black is a lack, a legal scholar, law professor, as well as a public school advocate who focuses on educational equality.
320 pages

ISBN-10 :

1541788443
Publisher : PublicAffairs
Language: : English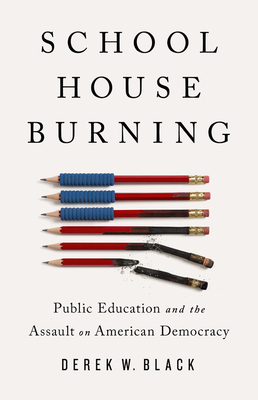 My rating for Schoolhouse Burning – 4
Buy Schoolhouse Burning from Amazon.com*
More Books by Derek W. Black*
Thoughts:
This was a fascinating book, which advocates the case for public education through a legal viewpoint and analysis of the history of the case for public education in America. The author makes his case in a clear and concise manner, as well as gives the reader an understanding of how, and why, did the smear campaign on public school began.
In Schoolhouse Burning: Public Education and the Assault on American Democracy by Derek W. Black, a professor at the University of South Carolina School of Law, provides context for the ongoing debate about public education, vouchers, charter schools, and more. It is an important book at a time when the Secretary of Education herself was hired for her outright hostility for public education and what it stand for (namely: she has to pay more taxes).
I did not realize that American's Founding Fathers held public education in such high regard, figuring that the only way their experimental governing system through civic participation would work is if the electorate is educated. There weren't many things they all agreed upon, so I was surprised to find out that public education was one of them.
Mr. Black goes on to trace the beginning of public education throughout the American Civil War, how the Southern states fought against educating freed slaves, the high regard freed slaves held public education, and of course the downhill spiral of the last few decades. The book goes on to explain vouchers, charter schools and other ways to divert money from public schools, as well as how those well-meaning systems have been manipulated and twisted from their original intent, as to be almost unrecognizable.
The author puts the blame squarely on the likes of DeVos and the Koch Brothers who went on decades long smear campaign with the intent of destroying public education.  They want to completely dismantle public education, and replace it with privately run schools. Public education, however, is not a for-profit business, and it's dangerous to see it as such.  The Kochs, don't only object to public education because it's funded by taxpayers, they also believe that the kids are getting indoctrinated into left wing ideology, contrary to almost ever serious study ever done.
The author brings forth many court cases and legal decisions which support his case. He is optimistic, but barely, that the defunding of public education will stop if states make it a priority instead of breaking the system, then complaining that the system is broke.
Buy Schoolhouse Burning from Amazon.com*
More Books by Derek W. Black*
Zohar — Man of la Book
Dis­claimer: I got this book for free.
*Ama­zon links point to an affil­i­ate account
--- Please like and follow ManOfLaBook.com ---