About:
"Room" by Emma Donoghue (Book Website | Author Website)  is a fictional, award winning book with a disturbing premise.  The book tells of Ma, who has been kidnapped and locked in a room for seven years by "Old Nick".  Ma and Old Nick have a son, Jack who is also lives in the room without being able to leave.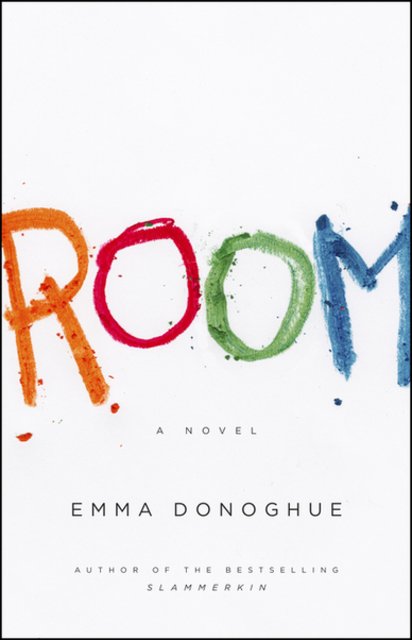 My rating for Room – 3
Buy it here, surly you have enough room for "Room"*
More Books by Emma Donoghue*
Thoughts:
"Room" by Emma Donoghue has a very unique perspective, the whole story is told from the view point of five year old Jack.   Jack is very smart and bright, he lives happily in his own little world, unaware that there better or different things than the rigid daily routine he and Ma have devised.  Ms. Donoghue does an excellent job of narrating in the voice of a five-year-old whose only friends are his Ma, inanimate objects and characters on TV.
The book was inspired by Elisabeth Fritzl's confinement to a basement in Austria by her monstrous father who sired several children with her.  However, in the book Ma and Old Nick are not related, but its disturbing enough without incest being involved.
"Room" touches on many themes what is home (the room is Jack's home even after they leave), relative safety (Jack has never been outside), society, happiness, too many choices and more.  Ma and Jack are too unpredictable for the reader to make cliches observations about such themes, which are both intimate and global.
The first half of the book is gripping and well told.  The claustrophobic, creepy and eerie feeling of a captive twenty-something woman who is trying to make a warm, fun and loving place for her beloved son comes across in a straightforward way.  Even though Jack is extremely bright, almost too bright some might say, I still felt sucked into the story.
However, the second half is where the book lost me.  The improbable escape, the way Ma and Jack were treated by society, professionals and their families seem too much of a stretch.  After following the Elisabeth Fritzel case with some interest this part simply did not resonate with me.
The only thing which I found believable in the second half is the way the media is portrayed.  A bunch of blood suckers, if-it-bleeds-it-dies type of people who represent America's fascination with voyeurism.
And damned be the consequences.
"Room" is still a good book and a quick read. The unique voice in which the book is told is refreshing and well worth the time to read.
Synopsis:
The book is divided into 5 sections:
Presents: where we meet Jack and his ma who are captives in a 12×12 room of a man Jack calls "Old Nick" because he only comes at night. Jack has never known the outside world (outer-space) except a few shows on TV.   When "Old Nick" comes Jack has to go into the wardrobe and counts the creaks of the bed-springs if he is still awake.
Unlying: Jack discovers the harsh truth about his world.
Dying: Jack and Ma escape.  How? that you'll have to read for yourself.
After: Trying to adjust to life after Room is tough, both for Ma who becomes instantly famous and Jack who has never even been in the sun.
Living: Ma and Jack start their new life, but can they say goodbye to their old one.
A quick read and an award winner – Buy it now*
More Books by Emma Donoghue*
Zohar — Man of la Book
Dis­claimer: I borrowed this book.
*Ama­zon links point to an affil­i­ate account, the money is usually spent on book
Related articles
--- Please like and follow ManOfLaBook.com ---
Summary
Reviewer
Review Date
Reviewed Item
Author Rating





Product Name